This Thanksgiving, a whopping shopping feast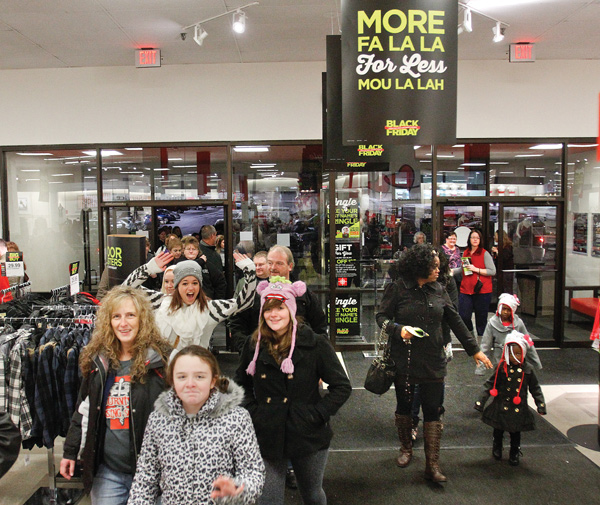 ---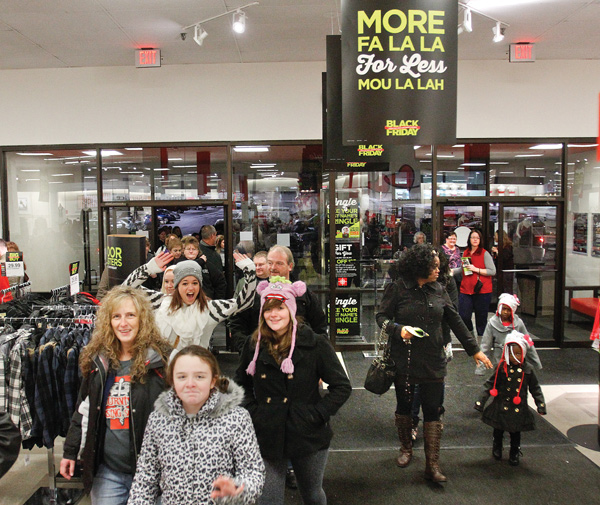 Photo
Thanksgiving Day shoppers were in high spirits as they entered J.C. Penney's in Southern Park Mall at 8 p.m. to get a jump on the Christmas shopping season. Several stores in the mall and others on U.S. Route 224 opened on the holiday to kick off what is the busiest retail shopping period of the year.
By JOE GORMAN
jgorman@vindy.com
BOARDMAN
Although the trend of shopping on Thanksgiving for a few hours before Black Friday is fairly new, you could call Jason Gennaro of Lowellville a veteran.
Gennaro was sitting in a chair in front of the Best Buy on Boardman-Poland Road about 2 p.m. Thursday, one of about 10 people in line to get ready for the store's 8 p.m. opening for special sales geared to kick-start the Christmas holiday shopping season.
Gennaro said he has been shopping on Thanksgiving for the last four years and he even has a system down. He said it is important to have a "buddy" to save your place in line and to help you take care of "necessary business."
"You need people to watch when you're going to the bathroom or going to get something to eat," Gennaro said.
Best Buy was not the only place open, as shoppers came to several area stores that decided to open for a few hours on Thanksgiving night to augment their Black Friday sales.
Gennaro had a lot of company Thursday, as the parking lot at Best Buy was packed with cars and lines formed outside Southern Park Mall, which opened at 8 p.m. There was a festive mood in some of the lines despite the cold, with some shoppers dancing and singing as they waited for the doors to open.
Courtney Stacy and Caitlin Sheridan, both of Austintown, were lined up outside waiting for the doors to open. Stacy said she did not want to wait until today because the special sales are too good to pass up. She also said she was persuaded to go by Sheridan, who has shopped on Thanksgiving before.
Sheridan said she likes shopping on the holiday because it's a change of pace and her family celebrates early enough in the day that she does not miss out on anything.
"It's something different," Sheridan said.
Sheridan was looking for deals on makeup, while Stacy wanted to go to the Pink store in the mall.
Brian Morris of Youngstown jokingly complained that his wife, Lisa, was making him come out to shop. Lisa Morris said she likes the unique specials and was looking for a deal on a pair of boots.
"I just like having him with me," Lisa Morris said.
The crowd at the mall looked like one on a typical weekday. Some of the stores had sales for items with prices up to 70 percent off just for the holiday.
Angela Chahine of Canfield was walking through the concourse a few minutes after the mall opened with a pair of new boots she just bought. She said the prices on Thanksgiving are far and away lower than at any other time of the year.
"It's worth it," she said of shopping on the holiday.
Gennaro said there was not one particular item he was looking for, but he likes the special sales so he can buy gifts for friends and family. He and his crew had been staking out Best Buy since Tuesday, waiting for a chance to plop their chairs down in line.
Bryan Seidita, also of Lowellville, who was with Gennaro, said he was participating in his second Thanksgiving shopping experience and that the extra effort is worth it for the special sales.
"They're good deals," he said.