LoSasso-Baird plans being made for May 31 rites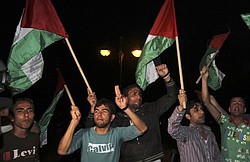 AP

Photo
Palestinians wave flags and chant slogans in support of a reconciliation between the rival Fatah and Hamas movements, in Gaza City, Wednesday, April 27, 2011. Palestinians have reached initial agreement on reuniting their rival governments in the West Bank and Gaza, officials from both sides said Wednesday, a step that would remove a main obstacle in the way of peace efforts with Israel. (AP Photo/Adel Hana)
POLAND
Fred and Bonnie LoSasso and Kenneth and Susan Baird, all of Poland, are announcing the engagement of their children, Natalie LoSasso and Mitchell Baird, both of Westlake, Ohio.
Invitations will be extended for the ceremony May 31 at Holy Family Church and for the reception to follow at Mr. Anthony's Banquet Center in Boardman.
The bride-elect graduated cum laude with a bachelor's degree in nursing from Youngstown State University. A registered nurse, she works in high risk obstetrics at University Hospitals in Cleveland.
Her fianc graduated summa cum laude with a bachelor's degree in business and earned a master's degree in accountancy, both from Miami University. He works as an auditor for Ernst and Young in Cleveland.