Remember: Live trees always look smaller in the field The perfect tree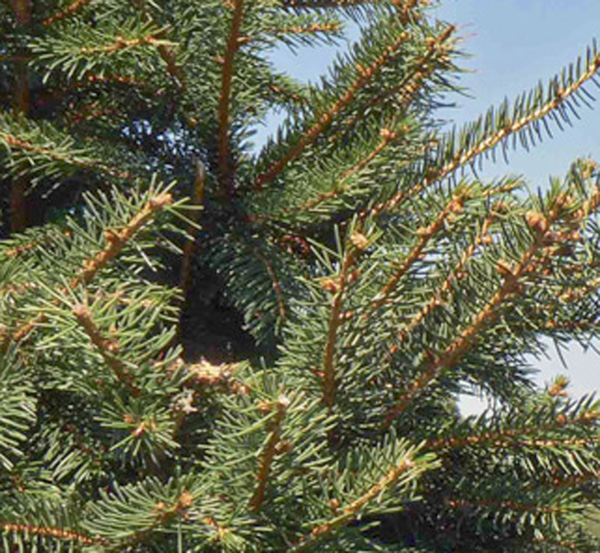 ---
By Tara Fodor
OSU Ext. master gardener volunteer
When it comes to celebrating the holiday season, choosing and cutting a fresh tree is part of so many family traditions.
Selecting that perfect tree, however, can be a challenging decision for an individual or a family.
The most common attributes to consider when looking are the overall shape and size, color, needle retention and fragrance.
To begin, determine where your fresh tree will be set up in your home. This will help determine how much space is available and, ultimately, what size tree you can look for. Knowing your ceiling height will eliminate the guessing game at the farm or tree lot.
As an example, in a room with an 8-foot ceiling, a 7- to 7 Ω-foot tree will be as tall as you will want to go, as the height of the tree stand and tree topper usually require 6 to12 inches.
Most farms offer measuring poles to use while scouring the fields for that perfect tree.
Remember, trees always look smaller in the fields, so using this tool will help avoid an oversized tree for your home.
Secondly, think about the shape of the tree, as this can vary greatly from a skinny, pencil tree to a full, robust tree.
Knowing the space you have to work with will help you to select the right fullness.
Also, know what type of ornaments will be displayed on your cut tree as the different tree varieties have varying branch strength and needle length. Are they bulky and heavy ornaments or smaller ones with little weight?
When it comes to the actual tree itself, beauty is in the eye of the beholder.
Today's tree farms offer many varieties to choose from to meet our individual likes.
Here in the Mahoning Valley, the most common trees grown by our local farmers include Canaan fir, Colorado blue spruce, concolor fir, Fraser fir, Norway spruce, Scotch pine and white pine.
Canaan fir is a newer variety and becoming more popular in Ohio.
The Fraser fir look-alike has needles with a bluish-green top and a silver-green bottom. Needle retention is good and branch density is strong.
Colorado blue spruce is best known for the silvery blue to green coloring and stiff branches. Though these trees are prickly needled, this is a favorite to many as their strong branches are ideal for holding those large, heavy ornaments.
Concolor fir trees are becoming more and more popular with their unique, citruslike fragrance. They have a charming blue-green color, long, soft needles and excellent needle retention.
Fraser fir, one of the most traditional Christmas trees, provides another great decorating tree and is richly fragrant. Their branches provide both good spacing and strength for hanging heavy ornaments. The needles are soft with a silvery-greenish color.
Norway spruce are known for being dense trees. The needles are short and semi-prickly with a vibrant green color.
Scotch pine has a hardy, dark-green color with dense, firm branches. This popular Christmas tree has excellent needle retention and a conical shape.
White pine is a long, soft-needled tree with a very distinctive appeal. The limber branches with blue-green needles call for light ornaments.