Snow emergencies declared, holiday travel delayed
RELATED: Strong winds may ground balloons in Macy's parade
Staff report
YOUNGSTOWN
Winter Weather Hits Valley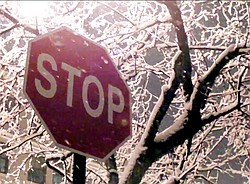 Video
The first major blast of Winter weather hit the Valley today.
Snow plows have mobilized across the Mahoning and Shenango valleys as the area's first big snowstorm of this season rolled in, with residents being asked to keep streets clear of vehicles so road crews can do their job.
Crews from the Ohio Department of Transportation District 4, which includes Mahoning and Trumbull counties, were to be out all night Tuesday and through today, plowing and treating the roads, said Justin Chesnic, ODOT District 4 spokesman.
The rate of snowfall made it difficult for workers to keep up.
"When you have snow falling at 2 inches per hour, you're going to have some snow-covered roads, some slush-covered roads," Chesnic said.
Eighteen to 20 crews were to be on Mahoning County roads with 22 crews out in Trumbull, he said.
Vindicator broadcast partner WFMJ TV-21 reported that a man was killed in a two-vehicle accident on U.S. Route 62 at Triple Link Road in Sandy Lake Township, Pa., Tuesday afternoon in what's believed to be a weather-related crash. Two others were taken to the hospital, the station reported.
Eric Wilhelm, 21 WFMJ-TV chief meteorologist, said the storm was delivering what had been expected. Some areas may see close to 10 inches of snow by the time it's over, he said.
Because it's a heavy, wet snow though, the blowing and drifting snow that was initially predicted for today likely won't be an issue.
"It will be windy and cold," Wilhelm said. "It will feel like it's in the teens."
Snowfall totals may vary from one area of the region to the other.
Tom King, a meteorologist at the National Weather Service in Cleveland, said a weather spotter in Boardman reported 7 inches of snow there by early Tuesday evening. Only about 3 inches had been reported by the same time at the Youngstown-Warren Regional Airport in Vienna and 5 inches were reported in Canfield.
Additional accumulation is expected this morning with snow showers possible through this afternoon.
Police agencies throughout the Valley reported minor weather-related traffic accidents Tuesday night.
Deputy Director of Public Works Charles Shasho declared a snow emergency effective at midnight Tuesday until further notice as they battle the storm.
During a snow emergency parking is prohibited on all streets. Any vehicle violating the ban can be towed at the owner's expense.
A snow emergency is declared when more than 4 inches of snow are expected. The parking ban allows for easier access for plows to remove snow and for emergency vehicles to pass.
Shasho said the city's fleet of between 18 to 20 plows is up and ready to go. Crews got the trucks ready and loaded ahead of time in anticipation of today's weather.
Shasho said major roads will be taken care of first and, depending on the amount of snowfall, they may need treated again before side streets can be tackled. City crews also salt and plow the ramps to Interstate 680, state Route 711 and the Madison Avenue Expressway that cut through the city, but ODOT handles snow removal on the roads.
Boardman Township's road department is prepared to handle snowy and icy roads with nine salt and plow trucks.
Road Superintendent Larry Wilson said the road department workers will evaluate conditions to determine when to hit the streets.
"We are always concerned about that; we always try to do our best, but you never know what you are going to get," Wilson said.
Mike Dockry, Austintown Township administrator who oversees the road department, said a crew of 12 trucks will be ready to clear the roads when needed. Ten of the trucks are larger salt trucks with plows.
"It will be a matter of when the police tell dispatch when it is starting getting slippery out here," Dockry said.
Niles residents are under a snow parking ban until further notice.
Mayor Doug Franklin in Warren issued a parking ban through 6 p.m. today.

Hubbard has issued a snow emergency parking ban on public streets until 6 a.m. Thursday.
Boardman Township has a parking ban on public streets to 6 a.m. Thursday
The Struthers parking ban will be lifted at midnight tonight.
Liberty Township is requesting that all parked vehicles be removed from streets through 4 a.m. Thursday.
Weathersfield Township set a parking ban until 2 p.m. today.
Austintown Township has a parking ban until 8 a.m. Thursday.