Ursuline Preschool will host Christmas craft show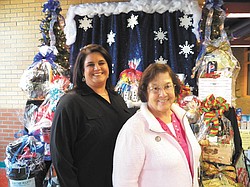 Photo
SPECIAL TO THE VINDICATOR: Preparations are being made for the Ursuline Preschool and Kindergarten's 25th annual Once Upon a Christmas craft show Dec. 7. Above are craft show chairwoman Christy Durham, left, and Sister Charlotte Italiano, school principal.
CANFIELD
Ursuline Preschool and Kindergarten will host its 25th annual Once Upon a Christmas craft show from 9 a.m. to 4 p.m. Dec. 7 at the Ursuline Center, 4300 Shields Road.
More than 100 vendors will sell unique holiday crafts and gift items. It will be an opportunity to stock up on homemade baked goods and candy.
Several raffles will be featured: The family treasure chest will offer items for the whole family, the hi-tech raffle will feature the season's hottest electronic gadgets, a 50-50 raffle and several themed basket raffles.
Tickets can be purchased at the school or on the day of the craft show. Winners will be drawn at the conclusion of the event.
A concession stand will offer a variety of snacks beginning at 9 a.m.
Admission is free and parking will be available.
Proceeds will benefit the Ursuline Preschool and Kindergarten.
For information call the school at 330-792-4150 or visit www.ursulinepreschoolandkindergarten.org.