Senediaks' 50th is honored by family dinner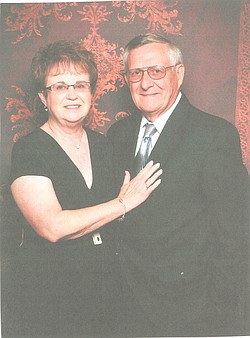 Photo
Mr. and Mrs. Charles G. Senediak
AUSTINTOWN
Mr. and Mrs. Charles G. Senediak of Austintown were honored Nov. 23 at a dinner hosted by their children.
They are Michael J. (Carole) Senediak of Austintown and Christina M. (Darren) Thornton of Canfield. They have three grandchildren, Jeffrey and Julia Senediak, and Isabella Thornton.
As part of their celebration they took the family on a seven-day Eastern Caribbean cruise in July.
The former Margaret E. Kovacs married Mr. Senediak on Nov. 23, 1963, at Sts. Peter & Paul Ukrainian Orthodox Church in Youngstown, the day after President Kennedy was shot.
The couple are graduates of Chaney High School and members of the church.
Mrs. Senediak retired from Automatic Sprinkler in Youngstown, where she worked as a payroll clerk.
Mr. Senediak graduated from Youngstown State University in 1972 and worked for General Motors in Lordstown for 32 years before retiring in 1998. He was one of the first local salary hires in January 1966 four months before production began. He served in the U.S. Army Reserve from 1962 to 1968.