In 1963, this Youngstowner thanked Ruby for killing Oswald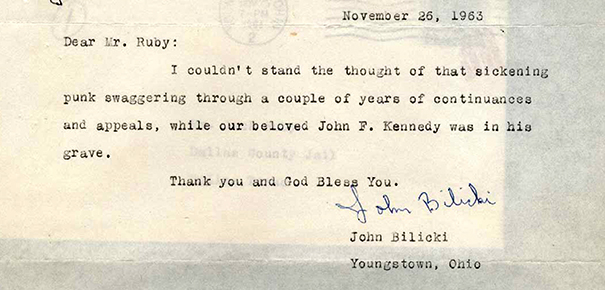 ---
By PETER H. MILLIKEN
milliken@vindy.com
YOUNGSTOWN
A North Side man was quick to express his sentiments about the suspect in the assassination of President John F. Kennedy.
John Bilicki wrote a terse, two-sentence letter dated Nov. 26, 1963, to Jack Ruby, while Ruby was in Dallas County jail, in which he thanked Ruby for fatally shooting Lee Harvey Oswald on Nov. 24, 1963.
"I couldn't stand the thought of that sickening punk swaggering through a couple of years of continuances and appeals, while our beloved John F. Kennedy was in his grave.
Thank you and God bless you," the typed and signed letter said.
Bilicki, who died of leukemia at age 70 in January 2000, was best known locally as an artist and as the chief of security at the Butler Institute of American Art for more than 35 years.
Bilicki was the 6-foot-5-inch, bearded security guard, known as "Jack," who greeted thousands of visitors at the museum door.
"He was not only the face of the Butler; he was also the voice of the Butler," said Louis A. Zona, museum executive director.
Bilicki's deep bass voice would be heard throughout the museum as he firmly said, "Please do not touch the exhibits " over the museum's public address system whenever video monitors showed visitors getting too close to the artwork.
A framed photo of Bilicki still adorns the museum's security desk.
Describing Bilicki as extremely dedicated to his job, Zona said Bilicki would walk through every museum gallery and office at closing time to ascertain that there were no security or fire hazards.
Zona said he wasn't aware of Bilicki's letter to Ruby until a reporter recently called it to his attention and that he was "absolutely shocked" to learn of it.
"I never would have thought that Jack [Bilicki] would have done something like that. But, on the other hand, he was very, very patriotic, and I'm sure that the idea of somebody killing our president was more than he could bear," Zona observed.
"We were all in front of our TV sets crying for three days," Zona said of the context in which the letter was written four days after the Kennedy assassination.
As an artist, Bilicki was well known for his colorful paintings of nudes, and he won many prizes for his work at the Butler's Mid-Year Show.
Several of his oil paintings on canvas, including portraits and still-life paintings, are in the Butler's permanent collection.
In the early 1950s, he studied art in New York City at the Art Students' League and the Hans Hofmann School.
Zona said, however, "He was very humble about his work."
Bilicki would often discuss paintings by his wife, Carol Jean, who still lives on the city's North Side, calling her "the real artist in the family," Zona recalled in a tribute he wrote in the museum calendar shortly after Bilicki's death.
Bilicki's nephew, Michael, of Austintown, said the man he knew as "Uncle Jack" was somewhat eccentric, walked daily from his residence to his Butler Institute job and never drove a car.
"My uncle was like a beatnik. He was really cool," said Michael Bilicki, who is known by the nickname, "Bill."
"He was extremely intelligent," Bilicki said of his uncle. "He had a photographic memory."
"He was a big supporter of Kennedy because he donated paintings" to be sold, with the sale proceeds being donated to the Kennedy presidential campaign, Bilicki recalled of his uncle.
Bilicki said his uncle told him early in 1964 that he had written the letter to Ruby. He said he didn't actually see the letter, however, until a friend, who had discovered it on the Internet, called it to his attention 10 years ago.
A jury convicted Ruby of killing Oswald and he was sentenced to death, but he appealed and was granted a new trial.
Ruby died Jan. 3, 1967, of a pulmonary embolism before he could be retried.
Ruby's brother, Sam, lived in Youngstown between 1939 and 1941. During his time here, he was a siding and shingle applicator for a construction company, according to Sam Ruby's testimony before the Warren Commission, which investigated the JFK assassination.