Sentencing set for today for man convicted of murdering Marsh parents, child
---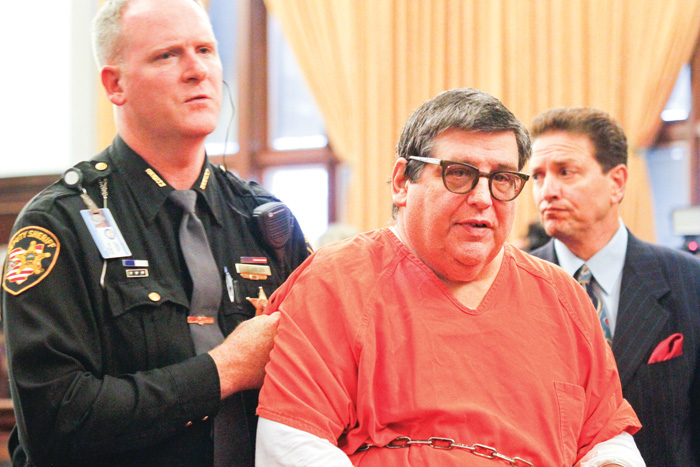 Photo
An officer escourts James Ferarra out of Judge Krichbaum's courtroom on November 22, 2013 after being sentenced to life in prison for the murders of Benjamin, Marilyn and Heather Marsh in 1974.
By joe gorman
YOUNGSTOWN
Bill Marsh shook with sobs just minutes after a jury found a man guilty of killing his brother Benjamin and sister-in-law and niece in December 1974.
He said he did not have much to say about the conviction of James Ferrara, but when asked if he thought someone would ever be held responsible for the death of his brother and his family, he answered, "One way or another, yes."
Ferrara, 64, was convicted Thursday in Mahoning County Common Pleas Court of three counts of aggravated murder, aggravated robbery and aggravated burglary for the Dec. 13, 1974, deaths of 33-year-old Benjamin Marsh; his wife Marilyn, 32; and their 4-year-old daughter, Heather, inside their South Turner Road home in Canfield Township.
Unharmed was the couple's 1-year-old son Christopher, who was found near his mother more than 24 hours after the rest of his family was killed.
A jury of seven men and five women were seated Monday and began deliberating Wednesday after closing arguments. They reached their verdicts about 1:15 p.m. Thursday after deliberating for about four hours Thursday morning.
Sentencing is set for 9 a.m. today before Judge R. Scott Krichbaum.
William Boyle, who was Benjamin Marsh's neighbor and best friend and who discovered the bodies of Marilyn and Heather Marsh, also was in tears.
"I'm just glad it's finally solved," Boyle said. "It's been a long time."
Bill Marsh thanked detectives for reopening the case and the prosecutors who presented it to the jury.
Ferrara showed no emotion when the verdicts were read.
He was indicted in June after a set of fingerprints found on an outside garage door at the crime scene were matched to his in 2009.
During the trial, prosecutors never gave a motive for the killings. The lead detective for the Mahoning County Sheriff's Office who reopened the case, Pat Mondora, testified Wednesday that Ferrara denied ever being at the home or knowing Marsh.
Both men worked at the General Motors assembly plant in Lordstown at the time of the killings — Marsh in security and Ferrara at the van plant. Ferrara is serving a prison sentence for a double homicide he was convicted of committing in the Columbus area in 1983.
Mondora and his partner on the case, retired Detective Dave Benigas, said after the verdict they are certain Marsh was killed because of his work in security investigating a ring that was stealing cars and vehicle-identification plates from the plant. Mondora said that to this day, there still are people they think were involved in the ring who will not cooperate with investigators.
Mondora said he was very nervous as he waited for the verdict to come in, but he added he was confident the fingerprint evidence was enough to convict. He said back in 1974 cases were won by prosecutors often with fingerprint evidence.
Dawn Cantalamessa, an assistant county prosecutor who handled the case along with assistant prosecutor Rebecca Doherty, said that prosecutors often try cases without a clear motive and also said fingerprint evidence was the standard in 1974.
She said it makes sense in this case because Ferrara's fingerprints were collected from the garage door where someone broke a pane of glass to get inside and then broke into a house that three people were murdered in.
"They [prints] could've come from nowhere else but him," Cantalamessa said.
Benjamin Marsh was shot four times and beaten. Investigators theorize he was already dead when his wife came home with the children and groceries and she was shot in the back of the head. Heather was beaten to death, possibly with a handgun. Marilyn Marsh's car was then taken and found later at the Kmart on Mahoning Avenue in Austintown.
Lead defense attorney Tony Meranto tried to cast doubt on the sole piece of evidence investigators had — Ferrara's fingerprints on the garage door.
He had filed a motion before the trial to have that evidence excluded because the person who processed the crime scene for the state Bureau of Criminal Investigation is dead and can not be cross-examined, but Judge Krichbaum overruled his objections.
Under the U.S. Constitution, Ferrara has the right to confront all witnesses against him, Meranto said.
Instead, Meranto attacked how the evidence was collected and stored at the time and also aggressively questioned the experience of former Deputy Mike Finamore, who testified he helped BCI agent Bernie Albert process the scene but collected no evidence himself.
Finamore was presented to verify how the evidence was collected and who collected it, but Meranto said he did not have enough experience in 1974 and was unqualified to process the scene himself.
Finamore countered that he was assigned to help Albert, but the decision to process the crime scene was made by the command staff at the site of the homicides.
Meranto left court after the verdicts and did not comment.