Dairy Queen offers sweet 11/12/13 deals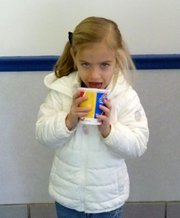 ---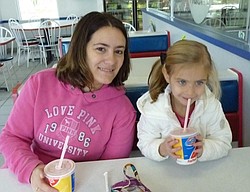 Photo
Neighbors | Elise McKeown Skolnick.Joanna (left) and Julianna Brubaker enjoyed the special prices on drinks for the 11/12/13 event at Dairy Queen Nov. 12.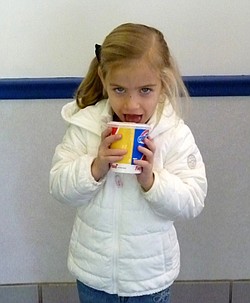 Photo
Neighbors | Elise McKeown Skolnick.Julianna Brubaker enjoyed a strawberry banana-flavored drink at Dairy Queen at a special event Nov. 12.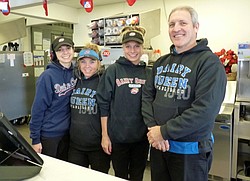 Photo
Neighbors | Elise McKeown Skolnick.Julie Popovich (left), Jenn Rogers, Jennifer DeLost and Ray Smith (right) had everything ready for customers on Nov. 12. A variety of specials were offered that day.
By ELISE McKEOWN SKOLNICK
Dairy Queen owner Ray Smith gave his customers a discount in a fun way on Nov. 12, offering a variety of deals starting at 11:12 a.m.
"We're trying to have a little play on the date and have some fun and give great discounts to our loyal customers," Smith said.
The event was also first offered in 2010, on 10/10/10. He repeated it in November of 2011 and December of 2012. There wasn't an option for 13/13/13, however, so this year, Smith opted for Nov. 12. Next year, the specials will be offered on Dec. 13.
The events are well-received, Smith said.
"Customers are really happy," he said. "My employees get extra hours preparing."
Specials were offered at both the Austintown and Cornersburg locations. Julius 12-ounce drinks were 11 cents, ice cream cones were 13 cents, 11 chili dogs were $12, 12 buster bars were $13 and five 12 oz. Blizzards were $13. Dairy Queen logs were $11, an eight inch cake was $12 and a 10 inch cake was $13. Everything else was discounted 12 percent.
Joanna Brubaker of Canfield brought her daughters, Julianna and Makayla, to the event.
"We like Orange Juliuses," Joanna said. She thinks the event is great.
Julianna said her drink was yummy. It was strawberry banana-flavored.
Smith has other special events planned, as well. At the Austintown store, Santa will arrive by fire truck on Dec. 8. Free photos with Santa will be offered. There will also be live Christmas music and sleigh rides. The same event will be offered in Cornersburg on Dec. 13 and on New Year's day, everything will be half-price.