Tara Pietrobono, Joseph Metzger are engaged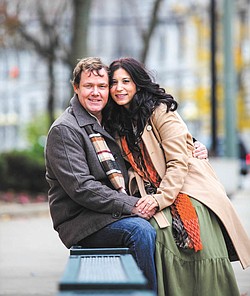 Photo
Joseph P. Metzger and Tara M. Pietrobono
Thomas W. and Lucy D. Peters of Canfield and John W. Metzger of Boardman are announcing the engagement of their children, Tara Maria (Peters) Pietrobono of Canfield and Joseph Peter Metzger of Youngstown. The late Elizabeth J. Metzger is the mother of the future groom.
The couple are planning a 1 p.m. wedding Nov. 30 at St. Nicholas Church in Struthers. A reception will follow at St. Lucy Palermo Center in Campbell. Invitations have been issued.
The bride-elect earned a bachelor's degree in fine and professional arts from Kent State University and a teaching certificate in integrated language arts from Youngstown State University. She studied the Sanford Meisner Technique at Promenade Conservatory and yoga at CorePower. She works in marketing at Simon Roofing in Youngstown.
Her fiancé earned a bachelor's degree from Yale University and served in the U.S. Navy for 12 years. He works for ALS Empirica Oil and Gas in Boardman.