Blair-Kaneck rites set in 2014, parents report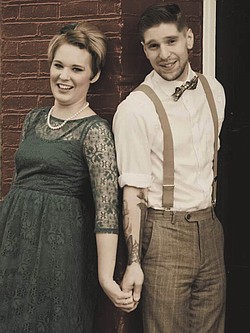 Photo
Vanessa R. Blair and Christopher W. Kaneck
Gregory and Deborah Blair of Salem and Christopher and Jacqueline Kaneck of Leetonia are announcing the engagement of their children, Vanessa Rae Blair and Christopher William Kaneck, both of Austintown.
The couple are planning a 2:30 p.m. wedding ceremony Oct. 18, 2014, at the Kidston Pavilion at Fellows Riverside Gardens in Mill Creek Park. Reception plans are incomplete.
The bride-elect attended the Hugh A. Glauser School of Music at Kent State University, where she studied music education. She works at the Salon and Spa at Macy's in Boardman.
The prospective groom attended Pittsburgh Technical Institute and is a baker at the Sugar Showcase in Austintown.