Published: Wed, November 20, 2013 @ 12:00 a.m.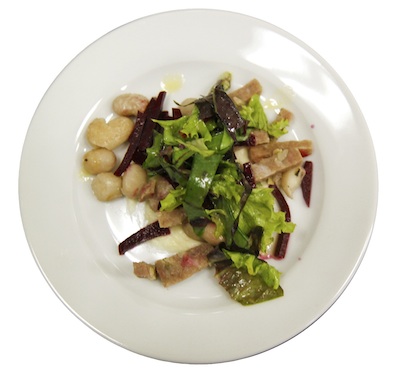 Photo
The Pork and Beans Salad from the Youngstown Supper Club.
This wasn't a typical dinner. It certainly wasn't the usual restaurant set-up. And the setting was far from ordinary. We just kind of stumbled upon it all by accident. And it was our good fortune.
About two months ago we met some young, extremely enthusiastic chefs at a charity event featuring local farm-to-table food. Adam Lee, Brad Miller and Russ Welch operate The Sprouted Table, which is essentially a "pop-up restaurant" in the Youngstown area.
This isn't a brick and mortar business you can find in the yellow pages, but rather they host event dinners at various locations around town promoted through word of mouth and social media outlets.
They described these dinners as "intentional eating" featuring local seasonal food in an atmosphere designed to connect the individual to the community, a social event where you spend the evening enjoying drinks, dinner and conversation about the food.
It didn't take us too long before we wheedled ourselves an invitation to their next event to get a first-hand understanding of this dining experience.
Our pop-up dinner, the seventh one so far in the Youngstown Supper Club series, took place in a beautifully renovated room on the third floor of the Tyler History Center overlooking downtown Youngstown.
Our meal started off with a trio of amuse bouches. Amuse bouche is essentially a term for a small bite served most times at the beginning of a meal to give you an indication of what's to follow.
Ours consisted of lamb sweetbreads, a chicken liver pate and bone marrow crumble. Sweetbreads, in case you didn't know, are neither sweet nor bread. They are the thymus gland. Mark, the Andrew Zimmern type never bashful about putting various organ meats into his mouth, didn't hesitate to sample the sweetbreads.
The sweetbreads had a creamy texture and were actually mild in flavor. The liver pate was served along with a seared fennel bulb. The bone marrow crumble was created by roasting beef long bones and had a complex hearty flavor profile from the caramelization process. Each of these small bites was paired with their own sauce and were quite delicious.
The salad course followed. It was composed of a mix of fall greens, pinto beans, pork in aspic and pickled beets over a root vegetable puree dressed with a beet vinaigrette. The crunchiness of the greens, creaminess of the puree and the tart pickled beets made for a nice marriage of flavors.
Our next course was an interesting take on bacon and eggs. Crispy cornmeal mush was served over creamed corn and paired with a poached egg and lamb bacon. The mush was crispy on the outside and tender on the inside. Saltiness was provided by the bacon and the savory creamed corn and soft egg yolk made for playful twist on a "breakfast" dish.
Yellow tomato soup with vinegar tapioca pearls was then served with a grilled cheese sandwich of gouda on rustic bread. As with the preceding course, this was a fun take on a classic comfort food dish.
We were then served a palate cleanser made up of pear sorbet with locally foraged fennel fronds. The sweetness of the sorbet combined with the licorice flavor of the fennel was very refreshing.
The main course was served. Cured and braised beef cheeks with roasted root vegetables (parsnip, carrot, and beet), egg cavatelli, and sauteed Swiss chard paired with a rich 22-hour demiglace sauce.
As Welch described, the intent of this dish was to be a representation of the comfort food that would have been common in the valley during pre-Depression time. This dish highlighted how good fresh locally grown vegetables could be. Tender beef, sweet vegetables and a savory sauce left us satisfied and full. But fortunately there was just a little more.
A cheese course consisting of cider-washed white cheddar, a pungent blue cheese and a sharp Parmigiano Reggiano along with mixed fruit honey butter was served.
The final course of the evening was a dessert featuring a "milk and cereal" semifreddo paired caramel sauce and creme anglaise. The coolness of the semifreddo played well with the warm custard sauce, which was not overly sweet. It was the perfect ending to a well-executed meal.
The Youngstown Supper Club is not for everyone. You need to be willing to slow down your evening and enjoy the company of like-minded strangers. We knew going in there would not be a signature dish to feature, because the menus on these dinners change with each event. What we found was a delicious seven-course meal, in a historic setting, orchestrated by passionate chefs. We couldn't help but enjoy their enthusiasm and the feeling that we were let in on a well-kept secret.
To find out more about these pop-up dinners, visit The Sprouted Table on Facebook.
ABOUT Signature Dishes
Mike and Mark are on the lookout for the biggest, hottest and tastiest dishes in the Valley. Email them at BrothersInFood@gmail.com.