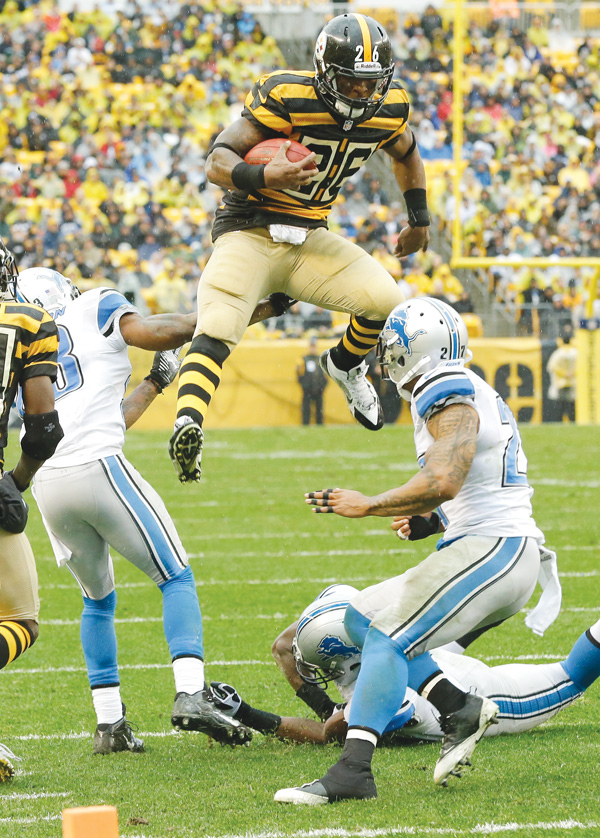 ---

Photo
Steelers RB Le'Veon Bell leaps for more yardage as he tries to evade Lions defenders, including strong safety Glover Quin (27), during Sunday's game at Heinz Field in Pittsburgh. The Steelers, down 27-23 late in the fourth, scored two touchdowns in the final five minutes to vault over the Lions, 37-27.
Angered Big Ben strikes back
Associated Press
PITTSBURGH
Backed up and fed up, Ben Roethlisberger provided a vivid reminder to his critics and the Detroit Lions of just how dangerous he and his suddenly surging team remain.
The Pittsburgh Steelers quarterback passed for 367 yards and four touchdowns, including two in the final five minutes as the Steelers rallied to beat the Lions 37-27.
The victory capped a contentious week in which Roethlisberger refuted speculation he may seek a trade in the offseason and rumors the franchise would like him to take a more "cerebral" approach to the game.
He responded by calling most of the plays against an aggressive but immature defense as Pittsburgh put together its most productive offensive day in more than two years.
"It feels awesome to win it the way we did," Roethlisberger said mounting the 31st comeback victory of his 10-year career.
Roethlisberger led the Steelers 97 yards for the go-ahead touchdown after the Lions botched a fake field-goal attempt early in the fourth quarter, hitting Will Johnson for a 1-yard touchdown to put Pittsburgh up 30-27 with 4:46 remaining.
Pittsburgh safety Will Allen picked off Matthew Stafford on Detroit's next possession and returned it to the Lions 30. Five plays later Roethlisberger lobbed a 20-yard strike to Jerricho Cotchery to extend the cushion to 10 points as the Steelers (4-6) won their second straight to keep the Lions (6-4) winless in Pittsburgh for 58 years and counting.
Antonio Brown caught seven passes for 147 yards and two scores and Pittsburgh's defense rebounded from a horrific second quarter to hold high-powered Detroit in check during the second half.
Stafford threw for 362 yards with two touchdowns and an interception, surpassing Bobby Layne's team record for career passing yards in the process.
Calvin Johnson hauled in six passes for 179 yards and both scores, but Detroit's two stars disappeared over the final 30 minutes.
The Steelers limited Stafford to just 3 of 16 passing after halftime, while Johnson was shut out.
"We knew they'd make plays and get yards," Pittsburgh safety Ryan Clark said. "We just wanted to make plays and stop them when it counted and we were able to do that."
Still, the Lions entered the fourth quarter with the lead thanks to a 27-point deluge in the second quarter.
Detroit had a chance to push the advantage to a touchdown. But rather than have David Akers attempt a short field goal, the Lions opted to run a fake.
Holder Sam Martin, however, fumbled while fighting for the necessary 5 yards and the Steelers recovered.
"I got hit by a 350-pound man," Martin said. "I don't think I had the first down, but regardless, that guy made a great play."
The Lions appeared to take control of the NFC North with a win on the road at Chicago last week but let the momentum vanish during a meek second half in which they appeared rattled by soggy conditions at Heinz Field and their own mind-boggling success during the highest-scoring second quarter in franchise history.
"We just didn't execute," Stafford said. "That's what it boils down to."
Detroit's collapse was hard to imagine following a dazzling 15 minutes in which Johnson and Stafford did whatever they wanted, whenever they wanted.