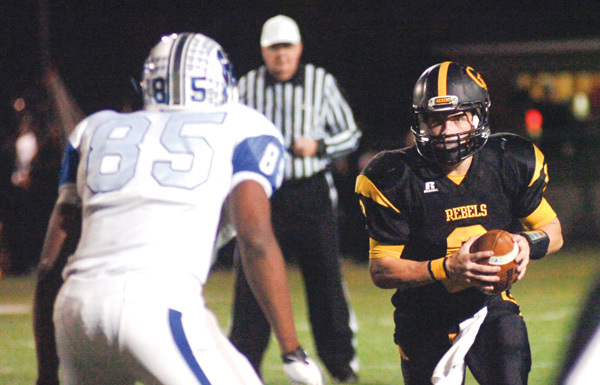 ---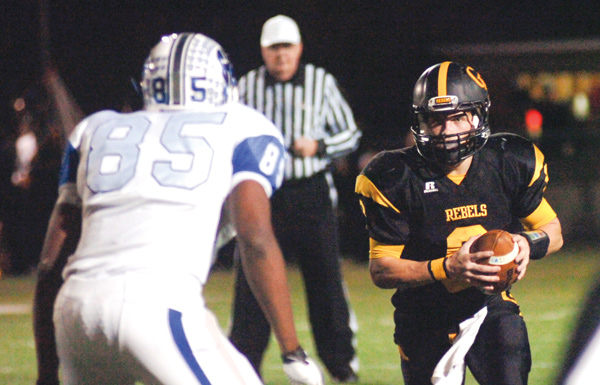 Photo
Crestview is headed back the Division V, Region 15 final to face Akron Manchester this weekend, thanks in part to the efforts of quarterback Collin Gilbert, who rushed for 230 yards threw for another 189 during the Rebels' 27-26 semifinal win over Gilmour Academy at John Cistone Field in Akron.
Four area teams will play for regional championships
By Steve Ruman
By the time the high school football postseason reaches its third week, coaches often find themselves scurrying for information on an unfamiliar opponent.
Such won't be the case for five area coaches this week whose teams will face opponents known statewide for their rich football history.
Austintown Fitch, Hubbard, Youngstown Cardinal Mooney, Crestview and Western Reserve have advanced to the third round of the Ohio High School Athletic Association playoffs. They will be playing opponents who have combined for 91 playoff appearances, a 137-73 post-season record and 13 state titles.
Because it is in Division I, Fitch plays a regional semifinal game. The other four schools will be playing for regional titles.
Fitch (12-0) will put its perfect record on the line Saturday when it plays Lakewood St. Edward (10-1) at InfoCision Stadium at the University of Akron. The Falcons advanced thanks to a 40-24 win over Westerville Central.
Trailing for just the second time this season, the Falcons erased a 10-point second-quarter deficit to rally against the Warhawks.
"We knew what we had to do, and we knew that if we executed we'd be okay," said Fitch coach Phil Annarella on Sunday of his team's come-from-behind win. "After digging a hole, we came out and played hard and played the way we are capable of doing so, and things worked out."
Fitch and St. Edward will meet for the tenth time, with the Falcons owning a 5-4 edge. The Eagles — who won a state title in 2010 — finished atop the the Division I Region 1 rankings. They have played 11 opponents who have a combined record of 90-35.
"St. Ed's is a quality team from top to bottom," Annarella said. "They are talented, and they are huge.
"They have continuously been one of the best programs in the state, and this year is no different."
Hubbard is hoping that the third time is the charm. The Eagles will meet Akron St. Vincent-St. Mary on Friday in Ravenna in a Division III Region 7 title game. The two teams met in the playoffs in 2010 and 2012, with the Irish prevailing each time.
Hubbard and SVSM are two of 20 schools in the tournament with 12-0 records.
The Irish have won five state titles and are the reigning Division III state champs.
"The thing that stands out about Akron is their team speed," Hubbard coach Brian Hoffman said. "Their linebackers are the heart of their defense.
"Offensively, they are extremely diverse," Hoffman said. "They'll run off-tackle on one play, then spread things out where the quarterback can hurt you with the pass or run. hey are talented and very deep."
The game will be played at Gilcrest Field, which was equipped with blue synthetic turf last summer. SVSM defeated Poland at that last Friday.
"I just watched the film of that game, and the turf is interesting to say the least," Hoffman said. "As far as Akron playing there two weeks in a row, I don't find it significant in any way."
Cardinal Mooney (8-4) and Cleveland Benedictine (9-3) will play for a Division IV Region 11 title on Friday at Solon's Steward Field. The Cardinals advanced with a 42-14 win over Struthers while the Bengals cruised past Chagrin Falls, 52-35.
The Cardinals and Bengals last met in 2010, a regular-season game in which Mooney won 42-7. Mooney owns a slim 10-8 edge in the series.
Like Mooney, Benedictine has extensive playoff success. The Bengals own a 36-11 post-season record, which includes six state titles.
With its 27-26 victory over Gilmour Academy, Crestview (11-1) tied a single-season record for most wins in school history. The Rebels will look to break that record and win their first regional championship when they play Akron Manchester (10-2) in the Division V Region 15 title game. The game will be Saturday at Robert H. Hines Stadium in Minerva.
While Crestview and Manchester have never met, Manchester is no stranger to the area. The Panthers are 14-10 against area schools, including a victory over Ursuline in the first round of this year's playoffs.
Western Reserve (12-0) found itself trailing for just the second time this season when it fell behind Danville 20-17 in the fourth quarter of Saturday's Division VII Region 23 semifinal. The Blue Devils rallied for a 31-26 win, and will face Norwalk St. Paul (11-1) for the right to advance to the state semifinals.
The Devils and Flyers meet Saturday at Medina's Ken Dukes Stadium.
"Our kids didn't show any panic when they fell behind," Western Reserve coach Andy Hake said. In recent times, St. Paul has feasted against area teams in the playoffs. Since 2007, the Flyers are 5-0 with a combined score of 184-14 against teams from the Mahoning Valley.
Struthers, Wellsville, South Range and Poland were eliminated over the weekend.
More like this from vindy.com