Bengals rally to secure hold on top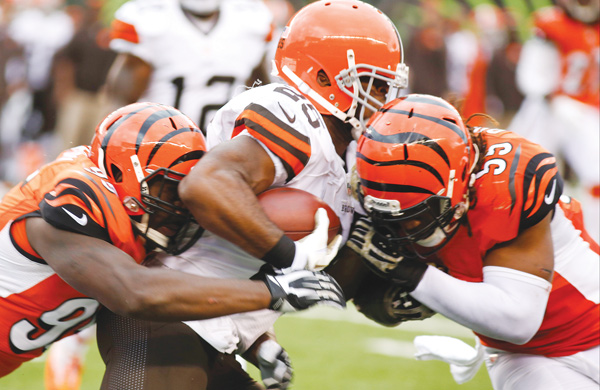 ---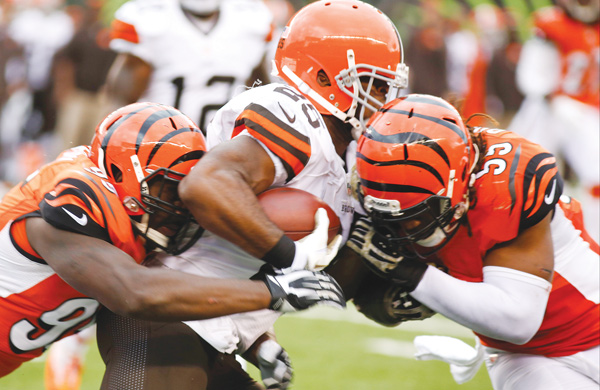 Photo
Browns RB Chris Ogbonnaya fumbles as he is hit by Bengals defenders Vontaze Burfict (55) and defensive end Wallace Gilberry (95) during the second quarter of Sunday's game in Cincinnati. Burfict recovered the ball and returned it for a touchdown. The Bengals scored three more times in the second quarter to set a team record and breezed to a 41-20 victory.
Associated Press
CINCINNATI
Joe Haden stepped in front of the sideline pass to A.J. Green, picked it off and went 29 yards untouched for a stunning 13-0 lead. Just like that, the Cleveland Browns had a chance to stamp themselves as contenders.
Fifteen minutes later, they had their comeuppance.
Andy Dalton threw two touchdown passes and Cincinnati returned a blocked punt and a fumble for touchdowns during a 31-point second quarter that set a Bengals record and swept the AFC North leaders to a 41-20 victory Sunday.
So much for that.
"I felt like we were doing a good job," said Haden, who had the first two-interception game of his career. "I was excited. One thing led to another and the next thing you know, we're down big."
With a lot to ponder in the next week.
The Bengals (7-4) head into their open week with their division lead intact and two rough weeks washed away by 15 minutes of domination. They'd lost their last two games in overtime, tying the NFL record and allowing the Browns (4-6) to draw close.
"Cleveland has done a lot of really good things, put themselves in position in the division that this was a really big game for both teams," Dalton said.
No NFL team has ever played three straight overtime games. By halftime, the Bengals had this one in hand. It ended as the most lopsided game in the intrastate series since Cincinnati's 30-0 win in Cleveland in 2006.
Dalton had a horrid start that helped Cleveland get a promising early lead. Haden picked him off twice, with his touchdown return making it 13-0. It could have been an even bigger lead. The Browns settled for a field goal after a first-and-goal from the 2-yard line — Greg Little was uncovered in the end zone, but Michael Johnson batted down Jason Campbell's third-down pass.
The Browns also got to the 10-yard line before settling for another field goal.
"When you've got a chance to put a team down in this league, you've got to get them down while you can," Campbell said. "I thought just us settling for those field goals, they thought they were still in it.
"You know, 21-0 instead of 13-0 is a huge difference. When you're down 13-0, you're still in the game."
Soon, the Browns were out of it.
Dalton threw touchdown passes of 25 yards to Jermaine Gresham and 6 yards to Mohamed Sanu, emerging from his recent funk. He has thrown eight interceptions in his last three games, a major factor in the two overtime losses.
The Bengals were just getting started on the highest-scoring quarter in their history.
Undrafted rookie Jayson DiManche blocked Spencer Lanning's punt and safety Tony Dye — promoted from the practice squad one day earlier — returned it 24 yards for a touchdown. Cleveland hadn't had a punt blocked in 20 years.
One minute and 50 seconds later, linebacker Vontaze Burfict forced Chris Ogbonnaya to fumble after a catch and ran the ball back 13 yards for another touchdown. Mike Nugent's 41-yard field goal capped off the quarter and made it 31-13.
The 31 points matched the second-most allowed by the Browns in one quarter, according to STATS. They hadn't done it since they gave up 31 in the second quarter at Houston on Dec. 9, 1990. The club record is 35 points allowed in the first quarter of a 35-7 loss at Green Bay in 1967.
Dalton threw another touchdown pass in the fourth quarter, giving him three overall. He was 13 of 27 for only 93 yards.