58th Cinderella Ball will debut 9 ladies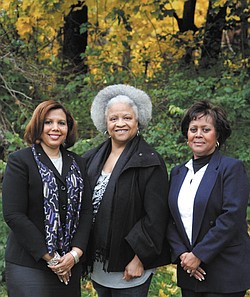 Photo
MADELYN P. HASTINGS | THE VINDICATOR From left, Susan M. Moorer, president; Deborah Ferguson, chairwoman; and Christine Hennings, co-chairwoman, take time out during a dance rehearsal by Cinderella Ball debutantes. The gala affair will take place Nov. 29 at Mr. Anthony's in Boardman.
Staff report
BOARDMAN
The 58th Annual Cinderella Ball, hosted by the Junior Civic League of Youngstown, will present nine debutantes when it takes place Nov. 29 at Mr. Anthony's Banquet Center, 7440 South Ave.
This year's theme, "If you can see it, then you can be it," will set the tone for the gala. The young ladies and their escorts represent several high schools throughout the Mahoning Valley.
Debutantes are Brianna Diaz, Campbell Memorial; Stacie Durden, Liberty; Maysia Finkley, Youngstown Christian; Mioma Jones, Austintown Fitch; Paige McClendon, Austintown Fitch; Kionna McQueen, Liberty, Christian Roberts, Austintown Fitch; Naudia Spivey, Liberty; and Erica Taylor, LaBrae.
Doors will open at 5:30 p.m., and voting will end at 7, when the formal presentation begins. Miss Cinderella, the first attendant and second attendant will be picked by popular vote. To buy tickets call Betty Scott at 330-759-8583.
A local band, the Michael Austin Project, will entertain. In a special performance, the theme will be sung by a local upcoming vocalist, Janae Oliver.
The Cinderella Ball is the sole fundraiser for the Junior Civic League's scholarship program. So far the league has awarded more than $.5 million to top area students.
Chairing the ball this year is Deborah Ferguson. Christine Hennings is the co-chairwoman, and Susan M. Moorer is the JCL president.
For information on the Cinderella Ball or sponsorship, call Ferguson at 330-261-0609 or Moorer at 330-509-4629.