Salem Scampers keep the campfires burning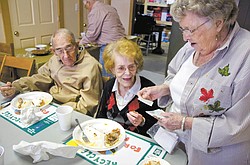 Photo
Kelli Cardinal/The Vindicator .Betty Clayton, right, from Salem, hands out a poem called "Pennies from Heaven" to Marilyn Burkley, from Canfield, and her husband, Sam, during the Salem Scampers annual fish and chicken fry Sunday in North Jackson. The Burkleys joined the Scampers in 1980.
By JoAnn Jones
The Salem Scampers, a camping club with members as old as 93, have had a lot of fun over the past 50 years.
One time they threw cooked spaghetti against the outside of a camper to make sure the pasta was done.
Another time they completely toilet-papered a member's camper.
And that December the family whose camper was toilet-papered used all of it to decorate for the annual Christmas party.
Oh, and the younger members throw paper airplanes during the indoor meetings in the winter.
Chuck Tieche of Canfield, however, said what the club does best is eat.
"We used to say we were the Gourmet Gluttony Club," he said.
No matter what they're doing, this multigenerational group is having fun.
The Scampers celebrated their 50th anniversary at Guilford Lake the last weekend in September with nine camping units. Three of the charter members who joined in September 1963 are still involved.
Betty Clayton of Salem, one of those three charter members, remembers what it was like when the club, with the goal to "foster a spirit of good fellowship among family campers," formed a half-century ago.
"It was only $500 to buy a new Nimrod camper," she said. "That's marvelous. And most places cost only $3 to camp. Some places were only $1.50. When we started, we had 30 families originally."
Clayton, who now cares for the group's scrapbooks, pointed out January 1964 articles saved from local papers in which the Scampers were seeking members. She also showed newsletters that were printed on mimeograph machines, because there were no computers.
"Marty Polder [the group's first president] got everything started," Clayton said. "At one time we had over 60 families, but we have about 25 now, I think. At one time we were pretty close to rolling up, too, but we got some new people."
She recalled many of the club's activities during its 50 years.
"We used to have women called Chuckwagon Annies, who would take care of the covered dish dinners on Saturday night and breakfast on Sunday on the weekends we camped," she added. "We had to cook outside."
"It's wonderful all the things we did," she continued. "We had a tradition of holding potlucks and having Halloween parties. We spent a lot of time at Westville and Bob Boord's [now Big Arb's] Campground."
"Everyone volunteered and people didn't lag behind," she said.
"We had a lot of kids, and now they're all grown up," Clayton said. "Now the kids are all in their 50s."
The youngest family in the club now is Scott and Jonette McKinley and their three children, who live south of Salem.
Clayton lamented that some of its charter members had died, two of them — Shirley Craig and Barbara Amon — very recently. Sometimes if the husbands die, she said, the women will sell their units but stay in the club.
Clayton is one of those. At the 50th anniversary, she joined in the fun even without a camper. She said the other two charter members still involved are John Craig of Canfield and 93-year-old Fred Ward of Columbiana, who spends his winters in Fort Myers, Fla.
Craig also is the club member whose camper was hit with spaghetti.
"We were camping near the Mohican River," Craig said, "and it was spaghetti dinner night. To tell when the spaghetti was done, they threw it up against my motor home, and if it stuck, it was done."
"Some of the younger members toilet-papered Sam's [Sam Burkley of Canfield] motor home while we were gone," Craig said. "Marilyn [Burkley's wife] used the toilet paper and decorated their whole house for the Christmas party. She even wrapped gifts in toilet paper."
Along with all the fun comes the responsibility of being a member. The club elects officers every year, and normally some of the officers change so that everyone can do their part to help out.
Doug Drake of Boardman, the 2013 Trailmaster [president], said his job is to "get committees in charge of the parties."
"March begins the camping season, and we camp once a month," Drake said. "Usually we have eight to 10 units, depending on who's on vacation. We look for sites within a two-hour radius. We like to try something new, but at the same time go back to places we like."
The club camps from March through October, has a fish fry in November at the Ellsworth Veterans of Foreign Wars, and has a Christmas party at one of the members' homes in December. In January the group has installation of officers, and by February the Wagonmaster, the person who arranges all the campsites for the year, has his work done. At the November meeting Tieche was elected Wagonmaster for 2014.
"At the February meeting, we try to get people to take charge of the weekends," Bonnie Tieche said. "That's the meeting where we go over all the plans."
"Usually we come on Friday nights because a lot of us are retired," Drake said. "Then we usually leave around 1 on Sundays. Sometimes the guys will go play golf while others take off on a tour such as Amish country. Last month we had Halloween at Timashamie [Campground in Salem]. They have an indoor facility we can use."
Joe Kovach of Canfield served as Scout (vice-president) this year and will take over as Trailmaster in 2014.
"I delegate, and the members tell me how to keep in line," Kovach said with a smile. "As vice-president, I listen to what everyone says. One thing is we quit that tent stuff a long time ago."
Kriss Yeager of Ellsworth, a teacher in the Western Reserve school district, said she has thoroughly enjoyed being a part of the club.
"We've been part of the group for 21 years," said Yeager, one of the younger members. "My husband, Todd, has been camping since he was little."
Yeager recalled the toilet paper incident, too, and said there is more to the story.
"Their [the Burkleys'] children had a beautiful 50th anniversary party for them, and we showed up with a cake made out of 50 rolls of toilet paper," she said.
"We went to Wal-Mart and bought things for the cake," said Bonnie Tieche, Yeager's sister-in-law. "We put flowers and ribbons in it, too."
"The best part of the whole club is family," Yeager said.
"They embrace you and make you part of their family. These people act as grandparents for my kids. This is a special group."