Mr. and Mrs. Pancher mark 60th milestone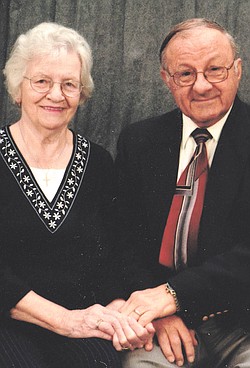 Photo
Mr. and Mrs. Harry Pancher
CANFIELD
Mr. and Mrs. Harry Pancher of Canfield were honored with a 60th anniversary dinner hosted by their children and grandchildren Nov. 9 at Lord of Life Lutheran Church.
Their children are Ted Pancher and Connie Kelly, both of Boardman; Linda Crump of Valkaria, Fla.; Dan Pancher of North Jackson; and Mary Hoffman of Alpharetta, Ga. The family includes seven grandchildren and eight great-grandchildren.
The former Marge Urbas married Mr. Pancher on Nov. 7, 1953, at Willoughby Methodist Church, Willoughby, Ohio.
Mrs. Pancher is a homemaker, and Mr. Pancher was an insurance administrator for GM Lordstown for 34 years before retiring in 1988.
He is a GRI Realtor with Agency Real Estate. He also is a member of Canfield Lions Club, Canfield Sportsmen's Conservation Club and Boy Scouts of America.
The Panchers have been members of Lord of Life since 1966.