50 years later, Kennedy charisma still stands out
MORE KENNEDY COVERAGE: The judge and JFK
By PETER H. MILLIKEN
milliken@vindy.com
YOUNGSTOWN
JFK Remembered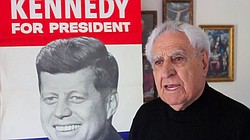 Video
Longtime Mhoning Valley political icon Harry Meshel recalls the 35th President of the United States.
John Fitzgerald Kennedy was a charismatic, youthful leader who presented himself effectively on the emerging medium of television.The unprecedented continuous live, multi-day coverage of his assassination 50 years ago represented a coming of age for that medium.
"He had a military background. He was recognized as a war hero," for his World War II Navy service, noted Fred Owens, communications professor at Youngstown State University.
"He had a great smile. ... He was able to exude a charm that reached through the television and touched people," Owens said. "He loved to use self-deprecating, almost ad-lib humor, and that reaches through a television screen."
The Kennedy charisma is being remembered this week as the nation marks the 50th anniversary of his Nov. 22, 1963, assassination.
"He was glib. He loved to conduct news conferences where he would engage reporters in tete-a-tete and engage them in multiple questions, and he was able to put together a family that almost seemed to be the Camelot family," Owens recalled.
"He had a wordsmith in Ted Sorenson [his speechwriter], in Pierre Salinger [his press secretary], and in the other advisers that he had, who were able to capture spirit," the professor said. "He was able to very succinctly inspire by his phrases, by his metaphors, and by his figures of speech."
As an example, Owe ns recited the immortal line from JFK's Jan. 20, 1961, inaugural address: "Ask not what your country can do for you. Ask what you can do for your country."
In his use of the media to address an audience that included many who had lived through World War II and the Korean War, JFK "was able to connect with those aspirations that people had, those expectations that things would be better, that there was an unlimited future before us, and that our economy would prevail," Owens observed.
"JFK was singularly confident of his abilities and leadership qualities," recalled Harry Meshel, who was chairman of the Mahoning County Chapter of Citizens for Kennedy in 1960.
"You could see it in him. He was confident when he spoke, when he was around you. I wasn't around him that frequently, but, the few times that I was, he knew what he wanted to say, and he said it with confidence," said Meshel, who attended JFK's inauguration. "He was knowledgeable."
At the same time, Meshel said Kennedy "appeared to be someone who came out of your own backyard, out of your own neighborhood. That's the way the Kennedys always impressed me, even though they came out of affluence."
John F. Kennedy, who was the youngest-ever and first Roman Catholic president, had a special allure, many recalled.
"He was damned good looking and he was articulate. The women loved him," said Robert Casey, of Boardman.
"He was a politician and also a diplomat," said Thomas Carney, a former state representative and Mahoning County commissioner. "Most everybody liked him, whether they were Democrats or Republicans," Carney observed.
"He was so dynamic, and he was young like we were. We could all identify with this young man, who was bringing a whole new appearance to politics that we, as young parents, could identify with," said ClaranneLyden McCloud of Boardman.
"He spoke intelligently. He spoke of a new hope for our nation," she said. His words "gave us great hope for the future."
"He had a young family. He tried to use humor to get his point across," said Robert Casey's wife, Jackie.
"I never really was interested in politics before. He just got the young people interested in politics," she said. "His being young just made you feel closer to him."
"I thought he was charismatic. He was young, good-looking and a very good speaker, and people were attracted to that," observed Dick Coughlin, of Boardman.

In the 1960 presidential debates, Kennedy prevailed over Richard Nixon because he was well prepared, Owens said. "One thing that was hidden was how carefully he prepared" for the debates and for news conferences, Owens said of JFK.
"He was suntanned, so he had a very robust appearance," in the debates on black and white TV, Owens added.
In contrast, during the debates, Nixon "was visibly calculating the arguments, almost reading from the inside of his forehead the arguments that he was going to bring forward, and so he tended not to smile. He tended not to engage the audience," or the news reporters, who were present, the professor said.
Nixon also perspired heavily under the TV lights and once appeared for a debate while suffering from a high fever and dehydration, Owens noted.
JFK's short tenure as president was characterized by the Cold War, the Cuban missile crisis, the maturing of the American civil rights movement, his challenge to put an American on the moon by the end of the decade, and his agenda to bring justice and prosperity to Third World countries.
"When you hear someone, on behalf of everyone, commit us to a big, juicy goal, those are the kinds of goals that move men's souls," Owens said of the moon landing goal, which was achieved in July 1969.
"He said forthrightly what he wanted to do, what we should be doing, why we should be doing it, and he was confident that we could get it done," Meshel said. "He was a good political speechmaker because he knew what subjects to talk about."
"Outside of President Lincoln, he had probably the most challenging presidency" in U.S. history, said David Betras, Mahoning County Democratic Party chairman, equating the significance of the Cuban missile crisis with that of the Civil War in determining the future of the United States.
The outcome of the missile crisis, which ended with the Soviet Union withdrawing its missiles from Cuba, could have been decisive as to whether the United States would survive or the world would have been destroyed by nuclear war, Betras said.
"The Cuban missile crisis defined his leadership and his statesmanship," Betras said.
Had JFK survived and continued his presidency, he "would have turned society a little more inward to think about the people within the nation as well as worrying about our position in the world," Meshel said.
"He would have worried about, not only the soul of people, but their well-being and what they would like to see this country do," Meshel added.
During the Kennedy presidency, "There was a contact and a recognition of people and a contact with people that is very rare that very few presidents have ever had," Meshel observed. "The only one that came close to it was Harry Truman."
After the tearful CBS-TV news anchor Walter Cronkite told the nation of the president's death on Friday, Nov. 22, 1963, Americans were focused on their TV sets through the weekend.
Millions watched Jack Ruby fatally shoot the assassination suspect, Lee Harvey Oswald, on live national TV on Nov. 24, 1963, as Dallas police detectives were preparing to transport Oswald from the police station basement to county jail.
The nation's attention to live television continued on the next day, which had been declared a national day of mourning, as Americans watched the funeral and saw the iconic image of 3-year-old John F. Kennedy Jr. saluting his father's casket during the funeral procession.
"It was a horrible event for everyone, and it was the dashing of the hopes and the expectations for so many," Owens said of the assassination, which generated TV coverage that was viewed by 70 percent of American households with television.
"It's not like Lincoln sitting in a booth," when he was assassinated in the presidential box at Ford's Theater in 1865, Meshel observed.
"This was a president going through a main street in kind of an unfriendly state and sitting in an open vehicle," Meshel said of the procession in Dallas.
"You hear this cracking of a rifle, and you see people slumping and she [Jacqueline Kennedy] dramatically climbing out of the back seat," in a real-life event, he noted.
"Americans stopped doing what they were doing. ... It was pretty much wall-to-wall news coverage by a barely adult television industry," Owens recalled.
"This was a different world of media," he added. "When people were drawn to that screen and saw what was happening to the nation, they were able to participate in a way that nobody had been able to before."