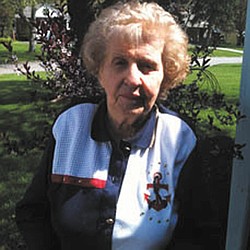 Photo
HAPPY 90th BIRTHDAY
Irene Sinkovich
HONOREE
Residence: Boardman.
Date of birth: Oct. 22, 1923, in Youngstown.
FAMILY
Parents: Frank and Veronica (Jessico) Kraynak.
Siblings: Lucille Zyznar, Elaine Aikey, Betty Jane Malenic and Jean DiCicco. Charles Kraynak and Mary Lou Warga are deceased.
Spouse: Joseph M. Sinkovich, whom she married July 31, 1948, is deceased.
Children: Ken and Karen Perry of Liberty; and Charles and Darlene Millosin and Kevin and JoAnne Smotrilla, all of Austintown.
Grandchildren: Melissa Guterba of Boardman.
BACKGROUND
Education: Graduated from Wilson High School in 1942.
Employment: Ohio Notion, Youngstown City Schools and Hume's Carriage House.
Memberships: St. Dominic Church, its council and Altar and Rosary Society; Kent State University Mother's Club; Bluebird leader; Campfire group mother; and secretary of the class reunion committee.
CELEBRATIONS
Date and location: A surprise party honored her Oct. 26 at St. George Croatian Center on Vestal Road by her children and their spouses. Guests attended from California, New York, Georgia, Dayton, Columbus, Cleveland and Kettering, Ohio.