$3M bond set for Walker, charged in gas-station killing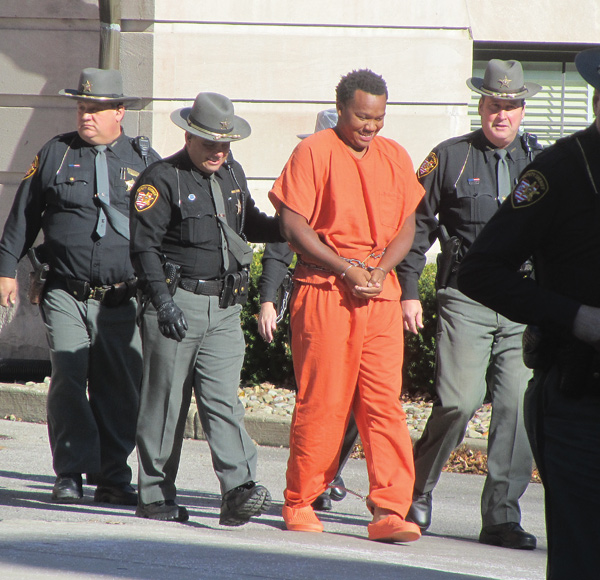 ---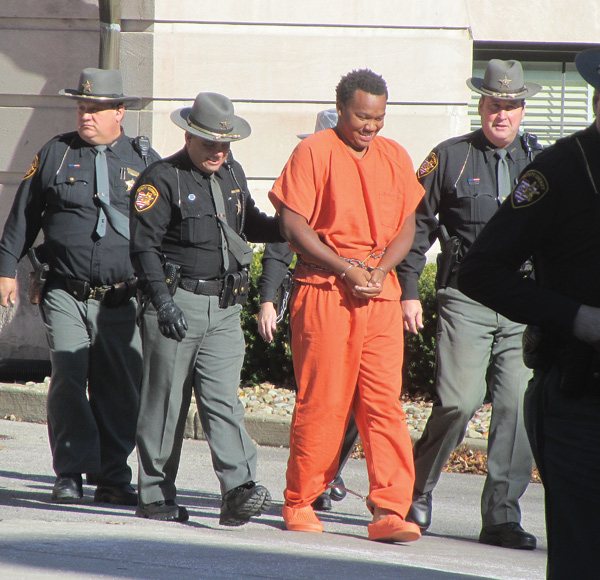 Photo
Trumbull County deputy sheriffs surround TaShawn Walker as he is brought from the county jail to the courthouse Thursday for his arraignment on an aggravated murder charge.
By Ed Runyan
WARREN
Judge W. Wyatt McKay of Trumbull County Common Pleas Court set bond at $3 million for TaShawn "Boo" Walker, the 26-year-old Baytown, Texas, man charged with killing Richard C. Rollison IV, 24.
Security was stepped up as Walker was brought from the Trumbull County jail to the courthouse, where Atty. Matt Pentz of the Ohio Public Defender's Office handled the arraignment on Walker's behalf, entering an innocent plea.
Walker will return to court at 11 a.m. Nov. 25 for his first pretrial hearing before Judge Peter Kontos, who will preside over the case.
Walker is charged with killing Rollison by shooting him six times in the parking lot of the Sunoco gas station on West Market Street at 12:54 a.m. Oct. 26.
The killing happened less than 20 minutes after police were called to the J&L Tavern on Highland Avenue in Warren Township, where TaShawn Walker and his father, Thomas Walker, 44, reportedly confronted people accused of celebrating the death of his brother, Taemarr Walker, 24, exactly one week earlier.
Richard Rollison III, the victim's father, was in the courtroom for the short hearing, along with a handful of other people.
Chris Becker, assistant Trumbull County prosecutor, said TaShawn Walker faces the possibility of life in prison with no parole if convicted of the aggravated murder of Rollison.
He's also charged with carrying a concealed weapon and improperly handling firearms in a motor vehicle.
TaShawn Walker, a top player for the Warren JFK High School basketball team, was captured in the Houston area by the U.S. Marshal's Service.
Warren police brought him back to Trumbull County last week.
Taemarr Walker was killed by a Warren police officer early Oct. 19 on Risher Road Southwest after he crashed his car in the ditch while trying to avoid a tow truck, and then reached for a gun inside the car.
The Warren officer was at that location answering a call regarding a crashed and abandoned car in the ditch on the opposite side of the road.