Phantoms hoping magic against Muskegon reappears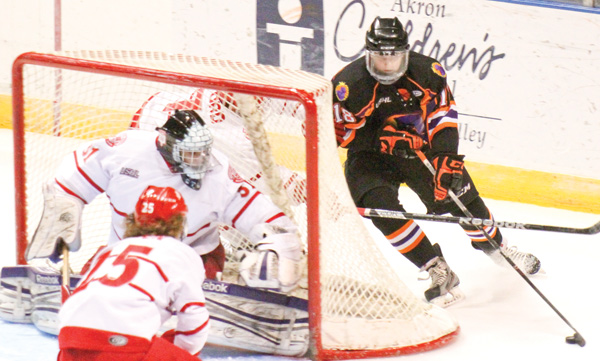 ---

Photo
Foward Kyle Connor (18) will be back in action with the Phantoms this weekend against the Muskegon Lumberjacks after a brief stint with Team USA at a junior tournament in Nova Scotia.
By Kevin Connelly
YOUNGSTOWN
It was at this time last season that the Youngstown Phantoms were in the midst of a four-game losing streak and had lost 11 of 12 games.
They were sitting at 5-11 and preparing for a one-game road trip to Muskegon.
The Phantoms came away with a 6-3 victory over the Lumberjacks and went to win four of their next six games to jump-start their season that ended in Game 5 of the USHL's Eastern Conference Finals.
This year's Phantoms (5-10-1, 11 points) find themselves in a similar spot heading into a weekend home-and-home series with Muskegon.
Youngstown lost three of four while head coach Anthony Noreen and forward Kyle Connor were with Team USA at a junior tournament in Nova Scotia. The Phantoms hope their return, along with a matchup against the Lumberjacks, can spark a similar turnaround from what has been a difficult start to the season.
"I think the great thing about us and Muskegon since I've been here, whether we've been at the top of the standings and they've been at the bottom, [or vice versa], is they've always been great games," Noreen said. "I would say without a doubt they are our biggest rival in the league, so I think that always makes for a good matchup."
The Phantoms got the better of the Lumberjacks (8-6-3, 19 points) last season, winning four of six contests. A win tonight at the Covelli Centre would provide the Phantoms with a positive finish to a five-game home stand before hitting the road for four straight games.
"Over the last few weeks, we've either been really good or really bad, and there hasn't really been a consistent level so we need to find a high level and stay at that for 60 minutes," Noreen said. "I think that needs to be our goal for the weekend."
The Phantoms bookended last weekend's series against the Fargo Force with good performances and split the two games. They know they're not going to be able to get away with such inconsistent play this weekend against a better opponent.
"Mentally, we gotta be stronger," forward Tyler Spezia said. "You're not going to win games in this league showing up for 40 minutes, so our practices this week have been [longer] and harder.
"We're looking to maintain that and make sure guys aren't taking any shifts off."
An area that's getting a much-need upgrade is goal scoring, thanks to the return of Connor. Despite missing the Phantoms' last four games, his 11 assists and 16 points still lead the team.
"Getting a player like Kyle back helps so much," Spezia said. "It helps out our depth, offensive production and he's just an all around team guy."
Connor and Noreen return to the orange and purple after donning red, white and blue the last two weeks in Nova Scotia. They brought back some hardware as well, winning the World Junior A Challenge gold medal with Team USA. Connor scored the game-winning goal in the team's 4-1 win over Russia in the championship game.
"Whenever you get to wear the USA sweater it's a huge honor and then actually winning the tournament felt great," Connor said.
At 16, Connor was the youngest player on a team made up of the country's best 16 to 20 year-old hockey players. He finished the five-game tournament with two goals and three assists.
"I think Kyle shined right there with the best of them," Noreen said. "As the youngest guy on our team he was playing on one of our top lines, our top power-play line and showed very well for himself."