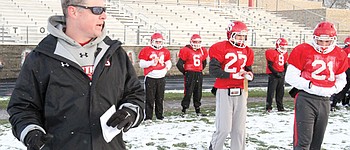 Mooney, Struthers contest pits storied team against Cinderella winner
Published: 11/15/13 @ 12:10
By Steve Ruman
They are separated by a mere 4.3 miles. In terms of male enrollment, they differ by just 20 students.
Yet in so many ways, Struthers and Cardinal Mooney — at least from a football perspective — are like night and day.
The Valley's most storied program (Mooney has won eight state titles) versus The Cinderella Story (Struthers just won its first playoff game in 14 years).
Consistency (Mooney has made one coaching change in 48 years) versus instability (Struthers has had five coaches since 2003.)
Private versus public. (More on that in a bit.)
Tonight, two neighboring schools which are in some ways worlds apart will clash when Mooney and Struthers meet at Bo Rein Stadium in Niles in a Division IV, Region 11 semifinal.
Mooney (7-4) advanced with a 45-20 first-round win over Cleveland John Hay. It was the Cardinals' 57th playoff win, third-most in state history.
"I thought we went into the game and played physical, disciplined football against a very good team," said Mooney coach P.J. Fecko. "We had a very solid week of practice, and that carried over to the game."
Struthers (9-2) lifted its all-time playoff record to 3-4 with a 14-3 win over Lakeview.
"A lot of teams talk about a goal of making the playoffs, our kids never talked that way," said Struthers coach Curt Kuntz. "Their goal was always to compete in the playoffs, to make a nice run. They came out with a mindset that they weren't satisfied just playing in Week 11. They wanted to keep it going."
One similarity between Mooney and Struthers is how the programs find success. Offensively, both teams strive to control the line of scrimmage and wear down opponents with a relentless running attack. Struthers is paced by Luke Witkowski (172 carries, 1,363 yards, 11 TDs) while Mooney is led by the tandem of Mark Handel (128 carries, 880 yards, 10 TDs) and C.J. Amill (136 carries, 815 yards, 7 TDs).
"We know what our opponent is going to do, the trick is to stop it," Kuntz said. "They might run the same play 10 straight times, just with a little different look. They are so good at what they do, it's difficult to slow them down even when you know what's coming."
Struthers also possesses a defense yielding just 113 rushing yards per game. The combination of a ball-control offense and a stingy defense concerns Fecko.
"Struthers can really wear opposing defenses down because of how much time they spend on the field," Fecko said. "We have to win the battle up front. We have to execute from start to finish if we are going to have a chance against a very good opponent."
Both coaches are well aware that tonight's game is also about more than execution and game plans. Much more.
Mooney and Struthers have met 15 times (Mooney holds an 11-4 edge), but haven't played since 2000, and likely won't meet in the foreseeable future unless again paired in the playoffs. The two neighboring schools played for 11 consecutive years from 1968-78 when they were both members of the Steel Valley Conference. They met in the playoffs in 1987, then briefly renewed the rivalry for three years beginning in 1998.
Former Mooney coach Don Bucci recalls facing the Wildcats in the opening week of the 1999 season, his final year of coaching. Struthers won the game, 12-0, then Mooney went on to win 12 straight before losing to Ironton in the state semifinals.
"Struthers was always a very tough, gritty opponent who would battle you to the end," Bucci said. "They were your typical hard-nosed Mahoning Valley team that played fundamental football. It was a fun series.
"We always had a great relationship with them, but eventually they went in one direction and we went another direction. As we were getting stronger, their enrollment was shrinking, and I think they just felt that we weren't a good fit."
Former Struthers coach Gary Zetts, who coached the Wildcats from 1986-89 then again from 1996-2003, says he always had "strong relations" with Mooney. Zetts was also the Wildcats' baseball coach, and said the Cardinals often practiced and scrimmaged on his field.
"I had a great relationship with their coach, and we knew that scrimmaging them would make us better," Zetts said. "At the time, a good handful of Struthers kids went to Mooney and played either football or baseball, so that added to the rivalry and made it special for both teams."
However, as the years went on, having students from Struthers and other communities migrating to Mooney also caused a stress in relations. Mooney has played as an independent since 2008, when a scaled-down version of the Steel Valley Conference was dissolved. It also struggles to schedule local opponents. Over the past three years, Mooney has played teams from nine different Ohio counties, along with teams from Pennsylvania and New York.
Kuntz doesn't see the trend ending any time soon, and in fact questions the logic of his team having to play Mooney in the postseason.
"Is it fair? No, it's absolutely not fair," Kuntz said. "They can go out and get players they want without consequence. They got one of our players, and are on probation because of it. They can get who they need and what they need. And it's not Mooney's fault, it's the fault of the (Ohio High School Athletic Association) who doesn't care that they're doing it.
"Mooney shouldn't and they certainly don't apologize for being the best. They are succeeding by a method which is permitted by the OHSAA."
Last June, a Cardinal Mooney freshman football coach left his job amid allegations that he attempted to recruit a pair of Struthers eighth-graders. OHSAA commissioner Dr. Dan Ross ruled that if the students chose to attend Mooney in 2013-14, they would be ineligible to play sports at the school for one year.
The incident further heightened the debate as to whether the OHSAA should place public and private schools in separate divisions — a proposal Kuntz is against.
"Separation would be horrible," Kuntz said. "If you think things are bad now, imagine what it would be like if the Mooneys of the world weren't hindered by the threat of recruiting. It would be open season. They would openly go after every top player they could get their hands on.
"People look at enrollment numbers and say that we're on the same level. That's nonsense. Not all of our kids are participating in extracurricular activities. We have a very broad range of students. The private schools can be very selective in who they bring in."
Kuntz favors a system in which a divisor would be used to "determine a team's true division" based on the strength of a regular-season schedule. He noted that Mooney played eight opponents this year which belonged in divisions higher than Division IV.
"You have to look at that schedule and ask yourself how the public school teams in our region would compete against that scenario," Kuntz said.
Kuntz was also eager to note that he welcomed the opportunity to play Mooney, and would use the game as a "life lesson," regardless of outcome.
"Look, if we win, we're going to be ecstatic," Kuntz said. "If we lose, we're going to look ourselves in the mirror and ask what we need to do to get to our opponent's level. On the field, they do things the right way. They practice hard 12 months out of the year. They block and tackle with the best of them.
"We will never, ever make excuses. Our goal is to get to Mooney's level, it's that simple."
Fecko noted that the private-public issue is an example of how there is debate at all levels of sports. He said the buzz surrounding both the issue and tonight's game "is part of the beauty of sports," and didn't see a point in discussing his feelings on the matter.
"There is no point in arguing, defending or debating the issue, it is what it is," Fecko said. "Everyone likes to debate the issue from their end of the spectrum. You even see it at the conference level, when schools in an upper tier of a league argue that they belong in the lower tiers. There will always be issues, regardless of what system is in place.
"Right now, our only concern is competing against a very talented Struthers team. I'm sure they feel the same way. The game has created a lot of buzz throughout the Mahoning Valley, and that can only be a good thing for high school football."
Tonight's kickoff is slated for 7:30. Because Struthers is seeded second, one spot ahead of Mooney, the Wildcats will use the home locker room at Bo Rein Stadium, and their fans will be seated in the stadium's west-side stands. The winner will move on to the Region 11 title game against either Chagrin Falls or Cleveland Benedictine.
Don't Miss a Story
Sign up for our newsletter to receive daily news directly in your inbox.