---
Thursday, November 14, 2013
Face Off: Team USA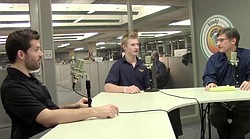 Video Set
We'll offer a special Vindy Talk Radio Faceoff segment at 5:30 p.m. Nov. 14 with with our host and resident Phantoms expert, Vindicator sports writer Tom Williams.
Phantoms head coach Anthony Noreen and Phantoms forward Kyle Connor recently returned from Nova Scotia after participating in the World Junior A Challenge Tournament. Connor scored the winning goal for Team USA in Sunday's 4-1 victory over Russia in the championship game.
Noreen and Connor will stop in to the FaceOff show to talk about their gold medals from the championship.
Go to vindy.com/blitz to listen to the show live. Videos highlights of each show will be posted at www.vindy.com/blitz/videos/.
Vindy Talk Radio Studio: 330-333-4454