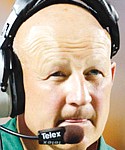 NDSU's Bohl is on a roll in MVFC
Published: 11/14/13 @ 12:09
By Joe Scalzo
YOUNGSTOWN
North Dakota State started its season with an impressive last-minute win at Kansas State on Fox Sports 1.
A month later, the Bison bludgeoned Delaware State 51-0 on the same day ESPN's College GameDay paid a visit to Fargo, N.D.
Then, on Saturday, the New York Times featured NDSU — and its nattily-dressed head coach, Craig Bohl — on the front page of its sports section. The Bison then went out and beat Illinois State for the school's 18th straight win.
After two straight national titles, the Bison have finally gotten some of the national spotlight this year.
And boy, were they ready.
"Well, it was a little surprising to be covered by the New York Times," Bohl said this week. "It's been a little bit of a special year. We've received more national media recognition than we have in the past. I don't know the reason for that; maybe because we got off to a good start beating Kansas State on national TV.
"Beyond it being good for North Dakota State, we hope that national exposure has been good for all of FCS."
At the very least, NDSU's success has been a boon to the Missouri Valley Football Conference, which has surpassed the Colonial Athletic Association as the FCS' best league. For all of Northern Iowa's success over the past two decades, there's been a perception that the Panthers are the Marty Schottenheimer of FCS programs: excellent in the regular season, disappointing in the postseason.
Not so with NDSU. As YSU center Chris Elkins said, "They get it done when it matters."
The Bison — the locals pronounce it BYE-zun, the FCS equivalent of insisting it's "The" Ohio State University — can become just the second FCS team to win three state national titles, joining Appalachian State (2005-07).
If they do — heck, even if they don't — many expect Bohl to be a hot coaching commodity this offseason, even after signing an eight-year contract extension on Jan. 1.
"After last year, I told their athletic director and president to give him a lifetime contract and they gave him an eight-year contract, so I'm still waiting on that three-percent agent fee," YSU coach Eric Wolford joked. "It'll be interesting to see [if he leaves]. I don't think he has to leave there for just an ordinary job. I'm sure he's had interest. At the same time, he's got a great situation there."
The 55-year-old Bohl has been NDSU's head coach since 2003, although he has an FBS background. A former walk-on at Nebraska, Bohl was linebackers coach for the Cornhuskers from 1995-99 and defensive coordinator from 2000-02.
Bohl is five years older than Jim Tressel was when he moved from YSU to Ohio State. When asked this week if he thinks Bohl is ready to make that jump, Tressel said, "I think there's no question. He's got all the background, he's won at the highest level as an assistant, he's been a part of quality programs and then he's also gone out and developed his own signature on his program.
"His results speak for themselves. Anyone looking to build a program will certainly have Coach Bohl on their list of people to consider, without a doubt."
Bohl, naturally, has avoided such talk.
He's focused on this weekend, not next year.
"We have a great deal of respect for Youngstown State," Bohl said. "We've played some very competitive games and Stambaugh Stadium is a tough venue.
"We've got our hands full."
Don't Miss a Story
Sign up for our newsletter to receive daily news directly in your inbox.