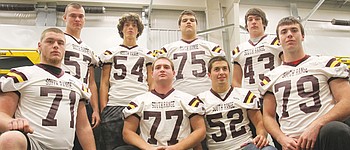 Second-round foes South Range and Mogadore prefer to run the ball
Published: 11/14/13 @ 12:10
Second-round foes South Range and Mogadore prefer to run the ball
By Tom Williams
BEAVER TOWNSHIP
After defeating pass-happy Cuyahoga Heights 49-42 in last Friday's playoff opener, South Range High football coach Dan Yeagley is pretty sure this week's game in Minerva will transpire much more quickly.
That's because the undefeated Raiders (11-0) will play another run-loving team — Mogadore (10-1).
Yeagley said the Wildcats are similar to last year's team that ousted Western Reserve (28-7) and Youngstown Christian (42-20) before losing to Newark Catholic in the Division VI state semifinals.
"They're the same from when we played them in 2006 and 2007," said Yeagley, referring to season-opening wins for the Raiders. "Last week, we had to worry about defending the pass 50 times.
"Now we have to be ready for the run 50 times — the game could be over very quickly," Yeagley said. "We're going to line up and smash each other, and see who comes out on top."
Against Cuyahoga Heights, junior Joe Alessi rushed for 295 yards on 34 carries.
In 11 games, Alessi has rushed for 1,675 yards while senior Billy Goodall has 887. Credit goes to the guys up front.
Clearing the way is a fairly experienced line led by four seniors/returning starters — left tackle Garrett Sorley (6-foot-3, 220 pounds), left guard Zach Baird (5-8, 195), right guard Ryan Haynes (6-0, 215) and right tackle Ben Farmer (6-1, 230).
Junior center Evan Schaefer (5-8, 200) and senior tight end Adam Witmer (6-1, 195) became starters this season.
"It feels really good to open holes for guys who can run like that," said Farmer, who also plays nose tackle on defense. "It's awesome to just get off your block and look [downfield], seeing them in the end zone."
Sorley said the Raiders' efforts to get stronger have paid off in the numbers generated by the rushing attack.
"We just know that they'll run non-stop," Sorley said.
Sorley and Farmer start on the defensive line with junior Ben Baird and senior Jake Ruiz. Zach Baird plays linebacker.
Farmer admitted the linemen were exhausted after rushing the passer on almost every down against Cuyahoga Heights.
Ruiz has confidence the Raiders can play with Mogadore.
"Our run defense is our primary strength," Ruiz said. "Our D-line is solid and [defensive end] Benny Baird is just quick.
"We're pretty excited. It's a great feeling to bring South Range back to its former glory."
Before the season, few predicted an unbeaten season for the Raiders, mostly because Inter Tri-County League Tier One rival Crestview had not lost a league game since 2009.
But three big wins in the first four weeks launched the Raiders. South Range opened with a 34-30 win over Warren JFK. In Week 3 at Bedford, the Raiders rallied for a 38-28 win over Garfield Heights Trinity.
A week later, Crestview was stunned, 49-35.
The 6-5, 270-pound Ruiz noticed that nine of the 10 Vindicator Blitz pickers went with Crestview.
"Our study hall teacher buys the paper," Ruiz said. "We all look at the predictions and kind of laugh when we're not chosen.
"But I like going in as an underdog."
That's something the Raiders haven't been for almost two months.
"It's awesome that we're fortunate enough to be one of the last 16 teams [standing] in our division," Sorley said.
But as the stakes began to mount toward going unbeaten, Sorley said, "It becomes more nerve-wracking with each game."
Don't Miss a Story
Sign up for our newsletter to receive daily news directly in your inbox.