Families, friends mourn two crash victims in Sharon, Brookfield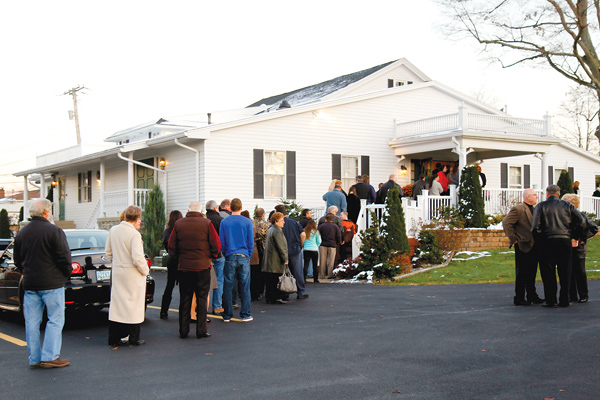 ---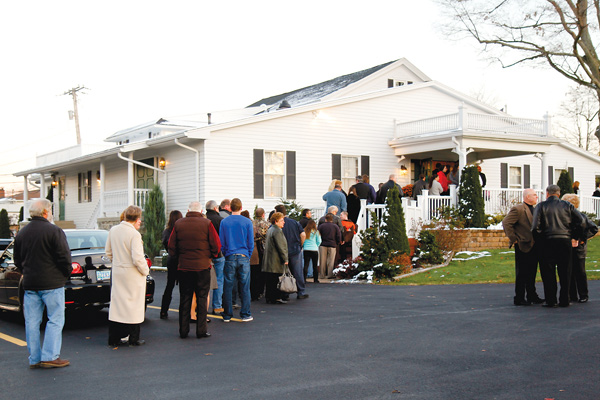 Photo
Friends of John Zdelar line up out the door at the Lane Madasz Funeral Home in Brookfield Township on Wednesday. He was among three who died in a car accident Friday night in Sharon.
By Jeanne Starmack
Sharon, PA.
The Sharon community said goodbye to another high school football player Wednesday, while in Brookfield, a husband and father was mourned.
The family of Evan Gill, 17, who died in a car accident Friday night on Connolly Boulevard, received condolences at the John Flynn Funeral Home on State Street in Hermitage, Pa.
Across the state line, friends of John Zdelar, 50, lined up out the door at the Lane Madasz Funeral Home.
The family of Corey Swartz, who was Evan's teammate on the Sharon Tigers varsity team, had received visitors Tuesday at the J. Bradley McGonigle Funeral Home in Sharon.
The accident in which the three died happened when an SUV Corey was driving crossed the center line on Connelly at 10:05 p.m., hitting Zdelar's truck. Police are still investigating.
Two other Sharon football players in the SUV, twins Craig and Greg Osmon, were injured and are recovering at St. Elizabeth Health Center, Youngstown.
Two passengers in Zdelar's truck, his stepson Evan Wallace, 10, and Blake Yendrek, 12, were not seriously injured.
Inside the John Flynn Funeral Home, hundreds of people waited to see Evan Gill and console his family.
In the hallway, his football jersey — No. 67 — was a framed memorial to the teen who loved football.
He also loved the outdoors.
"I have a cabin up in the Pennsylvania mountains, and Evan liked to come up with his dad and sit by the campfire," said Robert Kratofil of Austintown, Evan's step-grandfather.
Kratofil said he's known Evan since he was 5 or 6 years old.
"He loved to fish and loved the outdoors. Just like his father."
Friends of Evan's, standing underneath the framed jersey, said he always made them laugh.
"He made us feel loved," said Austin Alfreno, a wide receiver for the Tigers.
"He was a great guy," said Jenna Wagner, a Sharon sophomore who was Evan's date for homecoming in October.
In Brookfield, the long line began at the back of the parking lot and moved slowly up the steps to the funeral home door.
Hundreds of people were already there as calling hours began at 4 p.m. to give condolences to Zdelar's family and to say goodbye to their friend.
As people squeezed inside and made their way up the hall to sign in and enter the main room to pay their respects, a small group of people gathered in an auxiliary room.
There, Tom Yendrek, Blake Yendrek's father, remembered Zdelar, who was his neighbor. He also said he was lucky he did not lose his son in the accident.
Yendrek said Zdelar and the boys had been at the Sharon football game, and Zdelar was driving his stepson Evan to the boy's father's house.
Blake was in the back seat on the passenger's side.
"If he was sitting on the driver's side, he wouldn't be here," Yendrek said.
Yendrek said Zdelar loved tending his farm and enjoyed race cars. He was a crew chief for King Brothers Racing.
"Johnny always made you laugh," Yendrek said. "I never saw the man mad at anything. He didn't let things get him down."