Schlegel scores 23 but poor second half dooms YSU in loss to Buffalo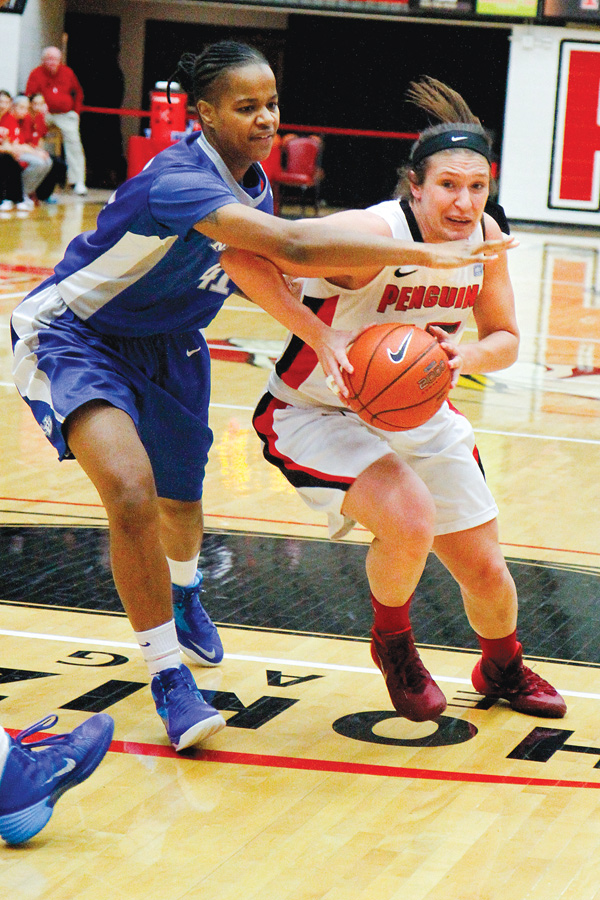 ---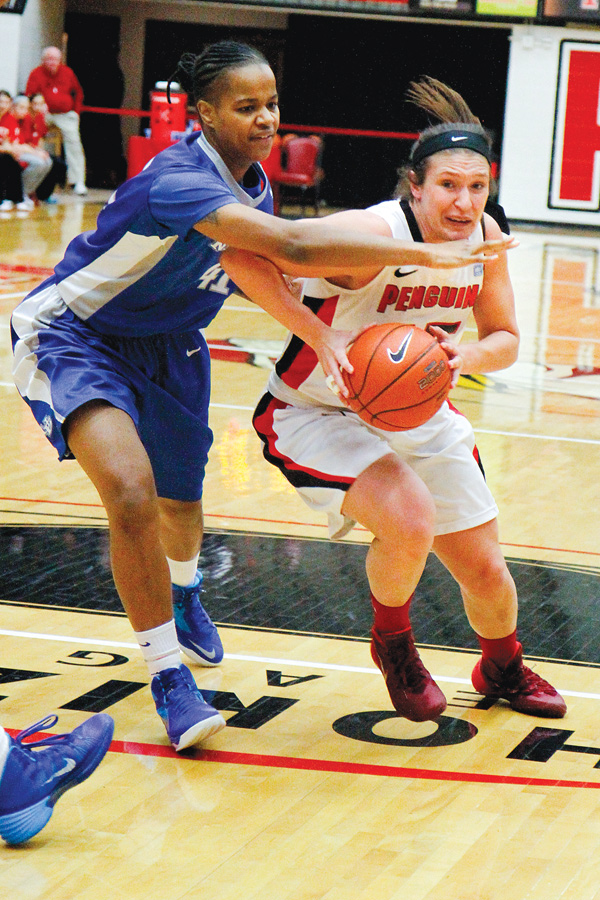 Photo
Youngstown State's Heidi Schlegel tries to keep Buffalo's Cherridy Thornton from stealing the ball during their Horizon League game Wednesday at YSU's Beeghly Center. Schlegel had a team-high 23 points with nine rebounds for the Penguins, who dropped to 0-2 on the season with a 72-65 loss to the Bulls.
Heidi Schlegel scores 23 but poor second half dooms Youngstown State in loss to Buffalo
By Joe Scalzo
Youngstown
Before Youngstown State women's basketball coach John Barnes had even sat down for Wednesday's postgame press conference, he managed a tired smile and said, "We're trying. We're trying."
He paused, then added, "By committee."
With starter Melissa Thompson out with a knee injury — the latest setback for an already-depleted rotation — and starting small forward Karen Flagg forced to play extensive minutes at point guard, the Penguins ran out of fouls, then ran out of gas in a 72-65 defeat to Buffalo at Beeghly Center.
"No one cares whether you have players injured or not," Barnes said. "You've got to go out and get the job done."
For 15 minutes, YSU did, jumping out to a 30-20 lead. But the Penguins shot just 7 of 29 from the field in the second half (including 2 of 16 from beyond the arc) as Buffalo did enough to hold on.
"I didn't think we had a great start to the second half," said Barnes, whose team made just one field goal in the first five minutes of the second half. "The good news is we could have folded. It [the deficit] could have went to 20 in a hurry. We just didn't have enough fouls to give or gas left in the tank to overcome that gap."
YSU had five players with at least four fouls — after posting a double-double in her Penguin debut, Latisha Walker played just 21 minutes before fouling out — as the teams combined for 54 fouls, the most in a YSU game since 2008.
That forced Barnes to give major minutes to junior Heidi Schlegel, who delivered with 23 points and nine rebounds.
"I go out every game and tell myself to play my hardest and the points come as they come," said Schlegel, who scored a career-high 27 points in YSU's opener on Saturday. "I feel a lot more comfortable. Age and maturity definitely helps. And playing with Brandi Brown [the last two years] definitely helps, too. She was a really good role model. I just try to do some of the stuff she did."
While YSU misses the graduated Brown, they had appeared to have enough talent to overcome her loss. But the Penguins lost talented transfer Janae Jackson to an ACL tear in the summer, then lost point guard Shar'Rae Davis (who is out until at least January with an undisclosed health issue), guard Monica Touvelle (who is in a walking boot and is out 3-4 weeks) and Amanda Barger (back).
"It's going to be a process," Barnes said. "We're going to have to claw and scratch to win games."