Mahoning Valley Chorale starts 14th season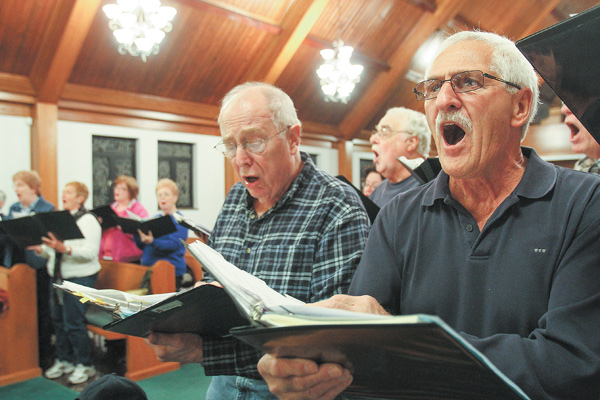 ---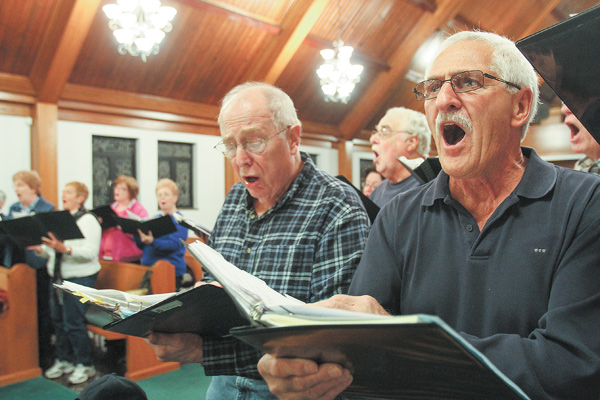 Photo
Robert Greitzer of Braceville, left, and John Viggiano of Poland give it their all during a recent rehearsal of Mahoning Valley Chorale at Good Hope Lutheran Church in Boardman. The group, formerly known as Seraphim Chorus, changed its name to better reflect its music and members.
By LINDA M. LINONIS
linonis@vindy.com
YOUNGSTOWN
Mahoning Valley Chorale, formerly Seraphim Chorus, changed its name to better reflect its focus on choral music.
The board voted on the name change over the summer and the membership voted in September.
Kris Harper, music director since September 2005, said the revamp signifies "being more inclusive and more easily identifiable."
The chorale sings "a real variety," Harper said. The programs may feature show tunes, opera, sacred music, '60s folk ballads, barbershop, Gospel, patriotic and semi-classicial. The group also has performed African American music at St. Augustine Episcopal Church.
Recently discussing the chorale, a nonprofit organization, were Harper; Margie DiRienzo, chorale president and member since 2005; Donna Greitzer, alto, and her husband, Robert, tenor, both original members; Christine Porter, soprano, board member and original member; Vicki Rossi, alto and secretary; and Mary Lou Werbel, original member and a founder.
"We've evolved over the years," said Donna Greitzer, who noted the chorale "shows more diversity."
Members of the chorale came together to sing at the funeral of Frances Kerpsack, a peace activist in the Mahoning Valley. Many had sung with Youngstown Symphony Chorus.
"We had a wonderful time singing together," Robert Greitzer said. "And we wanted that to keep going."
And so the Seraphim Chorus was formed in 2000 with Jon Simsic as conductor. In the beginning, the group was as a chamber ensemble with a chamber orchestra.
Werbel recalled a gathering in her home about forming the group. When she was out of the room, the others elected her president. She served for nine years and remains involved.
"It worked because we loved to sing together," Porter said. She added members also liked "to be challenged" by new music and styles.
The members noted that when Harper was hired, he brought a fresh approach. Because he was active in the music community, he was able to draw participants from the Mahoning Valley and neighboring Pennsylvania. DiRienzo said the membership fluctuates between 40 and 50 members; the age range is from late teens to 80-plus.
Harper said the chorale strives to present quality performances. Members bring a broad base of experience to the group. Many draw on experience in church and school choirs. Some read music and some don't. There is an informal audition.
Common ground is a love of music and sharing it with others, Harper said. "It's more of a community chorus now," he said. "It's more inclusive."
Donna Greitzer credited Harper "as a being a good director," which has contributed to the quality and popularity of the chorale.
For Porter, singing in the chorale is "uplifting and joyful." "We're singing at a new level ... and what we're doing is helping us grow in music," she said.
Werbel said being involved in the chorale is not only is about the music but social as well. "It's coming together with people and sharing music," she said.
"I genuinely like to sing and this is a wonderful opportunity, Rossi said.
DiRienzo added that the chorale members make up a family that sings together. "There is caring about one another," she said.
Harper picks the music for the season. "I like to be creative and I know the group," he said. The chorale presents two major concerts annually. The group also sings at a variety of venues such as retirement homes, summer concert series in parks, Stained Glass concert series and at the nativity display at Villa Maria Community Center.
Though not every singer is able to participate in every concert, Porter said, "there is a good core."
"When we did a '60s music concert, people were out of their seats, dancing ... spontaneously," Robert Greitzer said.
A concert of patriotic music also is a crowd-pleaser, Porter said. "Sweet Betsy from Pike" is among selections, she said, and puts smiles on the faces of the audience. "It evokes a memory," she said.