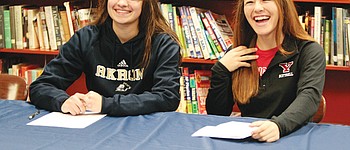 Area girls commit to college programs
Published: 11/14/13 @ 12:06
By Tim Cleveland
As she is about to begin her final varsity basketball season at Austintown Fitch, Megan Sefcik announced Wednesday that she will continue her academic and athletic careers at Akron.
She will major in early childhood education.
"I love being around kids," she said. "To be able to teach them would be fun for a while."
Sefcik, a 5-foot-9 senior, is a versatile player who can play either guard position or the post. She said distance was the deciding factor in her choosing the Zips.
"My final two choices were Akron and Bowling Green in the last couple weeks of the process," she said. "I visited Bowling Green and I knew distance was a factor; Bowling Green is 3 Ω hours away."
Besides Bowling Green, Sefcik chose Akron over Youngstown State, Niagara and Cleveland State.
Fitch's Cali Mikovich (softball, Youngstown State) and McDonald's Brooke Timko (gymnastics, Kent State) also announced their signings on Wednesday.
Sefcik averaged 18.9 points, 6.8 rebounds, 4 assists and 2 blocks per game last season. She led the Falcons to a 17-6 record before they lost in the first round of the Division I tournament to Boardman. She was named first team All-Northeastern Inland Ohio and first team all-conference her sophomore and junior seasons.
Sefcik is excited about the progress Akron has made in recent seasons. The Zips set a women's program record last season with 23 victories. Akron is 2-0 so far this season.
"Over the last eight years coach (Jodi) Kest and the program have tremendously gotten better," she said. "They've increased their wins every year. They won the MAC East (Division) last year. They're a fast-paced team. I like to run."
Even though she has decided where she will play in college, Sefcik said she has fond memories of her career with the Falcons.
"The Struthers games were always big games for us," she said. "Last year it came down to the wire. In my freshman year, we were in the Federal League. We beat Massillon Jackson for our first Federal League win."
As for her final season at Fitch, Sefcik said, "We're looking to be one of the best defensive teams in the area. We want to win every game that we play."
Even though she announced Wednesday she will be competing in gymnastics at Kent State, Timko knew she would be moving on to the Golden Flashes after this school year a long time ago.
Timko made the decision to commit to the Golden Flashes two years ago, but wasn't able to make it official until Wednesday. Her major is undecided.
Timko, who trains at Olympic Dreams in Liberty, said she hopes to compete in the all-around event in college.
"The coaches, I really like the coaches," she said of Kent State. "The girls are really nice.
"They're a pretty solid team. They do really well in the MAC."
Timko said there was an additional factor in her decision to attend Kent State.
"My coach, Dawn Toussaint, went to Kent for gymnastics," she said. "It's really neat that she went there for gymnastics, too."
Mikovich did not return a call seeking comment on Wednesday.
Don't Miss a Story
Sign up for our newsletter to receive daily news directly in your inbox.