Antonini will serve five months in prison for failing to report cash gift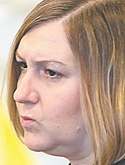 ---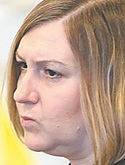 Photo
AKRON
Lisa A. Antonini, former Mahoning County treasurer and former Democratic Party chairwoman, is sentenced to five months in federal prison, followed by two years of supervised release, and fined $2,000 for failing to report a $3,000 cash gift.
The first five months of the supervised release will be on electronically monitored house arrest, and she must perform 150 hours of community service during her supervision period.
U.S. District Court Judge Sara Lioi imposed the sentence Wednesday on Antonini, who had pleaded guilty in June 2011 to a single count of honest services mail fraud.
Antonini must report to prison when the U.S. Marshals Service tells her, but not before Jan. 2, Judge Lioi ordered. As requested by Antonini's lawyer, George Keith, the judge recommended that Antonini serve her time in a prison as close to Youngstown as possible.
"The sentence seems to be commensurate with sentences across the country in federal court" for similar offenses, observed James Gentile, a Youngstown lawyer, who represents defendants in criminal cases in federal court.
The sentencing range available to the judge was from probation to 20 years in prison and a $250,000 fine.
Antonini admitted taking and failing to report a $3,000 cash gift from a local businessman Jan. 16, 2008, while reporting only a $200 contribution he gave that day by check to her primary campaign for county treasurer.
"In exchange, Antonini continued to support the businessman's interests and understood she would take official action on his behalf if opportunities arose," according to the information, to which she pleaded guilty.
Board of elections records show only Anthony M. Cafaro Sr., former Cafaro Co. president, as a contributor of $200 by check that day to her campaign.
Cafaro and his company were not charged with any crime concerning gifts to Antonini or her campaign.
Antonini, 44, of Youngstown, resigned May 16, 2011, as county treasurer, within hours after the U.S. attorney filed the information containing the charge against her.
Antonini, who has no prior criminal record, had signed her 17-page plea agreement with the U.S. attorney more than five weeks before the information was filed.
Her plea agreement said she needed to cooperate fully with any federal, state or local investigations and prosecutions, where authorities sought her assistance, if she wanted prosecutors to recommend maximum favorable consideration for her at sentencing.
The agreement obligated her to cooperate with authorities by "providing complete and truthful information, attending all interviews and debriefings, testifying truthfully before the grand jury and all court proceedings, if necessary," and providing all documents and records authorities might request.
Justin Roberts, the assistant U.S. attorney who prosecuted Antonini, recommended leniency because he said she has been cooperating with the authorities.
"It's obviously a very serious one," Roberts said of the offense.
However, he added that the situation is "somewhat alleviated by this defendant's decision to cooperate."
Saying she has "genuine remorse," Keith asked the judge to sentence Antonini to probation.
Antonini apologized to Judge Lioi for her "horrible judgment" and said she is "embarrassed and sorry" and accepts the seriousness of her crime.
"I've let myself, my family and my community down," Antonini said.
"I was afforded a great opportunity to serve, and I blew it," she added.
"This type of conduct is inimical to the interests of the public you were elected to serve," Judge Lioi told Antonini, adding that a prison term for such conduct is necessary to deter others.
Honest services fraud alleges a public officeholder devised a scheme to defraud citizens of their right to honest services through bribery and the concealment of material information.
The information says Antonini failed to report the $3,000 cash gift on a financial disclosure statement she mailed to the Ohio Ethics Commission on or about April 1, 2009, "thereby not disclosing her self-enrichment and conflicts of interest while presiding as county treasurer."
Antonini, who became county treasurer in March 2007, supervised the collection of real-estate taxes and the management and investment of the county's money.
She was county Democratic Party chairwoman between June 2002 and April 2009.
Keith said he would have to discuss with his client whether the sentence should be appealed.
Roberts declined to comment on what, if any, inferences the public should draw from the lack of new corruption charges being filed against Mahoning County public officials or business leaders during the nearly 21/2 years between Antonini's guilty plea and sentencing.
"I don't think you could read anything into it," Gentile said of the time lag.
Most federal corruption charges have a five-year statute of limitations, meaning no more than five years can elapse between the date of the offense and the filing of a criminal charge related to it, Gentile explained.