Published: Wed, November 13, 2013 @ 3:36 p.m.
VTR - YSU Hall of Fame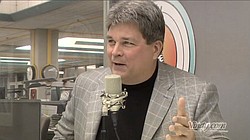 Video Set
Vindy Radio will be live on Nov. 13 from 8 a.m. to noon with host Louie Free.
At 10 a.m., Bob Hannon and Ed Muransky stopped in to the studio for a chat about the YSU Hall of Fame and Jim Tressel's induction.
They chatted about Tressel's future, his tribulations at Ohio State, changes they think they NCAA needs to make, their preference for golf, safety trends and the future of football.
Go to vindy.com/radio to listen to the show live, or vindy.com/mobile/vindy-radio to listen from your smartphone.
Click here to listen to the show. Follow @VindyRadio on Twitter for live tweets during our broadcast and beyond.
Vindy Talk Radio Studio: 330-333-4454