Published: Wed, November 13, 2013 @ 2:32 p.m.
VTR - Lisa Antonini Discussion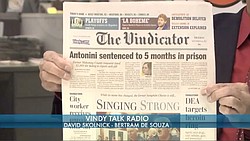 Video Set
Vindy Radio was live on Nov. 13 from 8 a.m. to noon with host Louie Free.
After several years, Lisa Antonini's legal status was finally decided Nov. 14 as she received five months in federal prison. Vindy staffers will discuss the aftermath of the much-delayed sentencing at 11 a.m.
During the Antonini segment, David Skolnick and Bertram de Souza discussed Antonini's recent bribery conviction, the cash quantities quoted in her court case, and the message being sent by her sentencing.
Go to vindy.com/radio to listen to the show live, or vindy.com/mobile/vindy-radio to listen from your smartphone.
Click here to listen to the show. Follow @VindyRadio on Twitter for live tweets during our broadcast and beyond.
Vindy Talk Radio Studio: 330-333-4454