Mooney motto: Keep it simple Saadey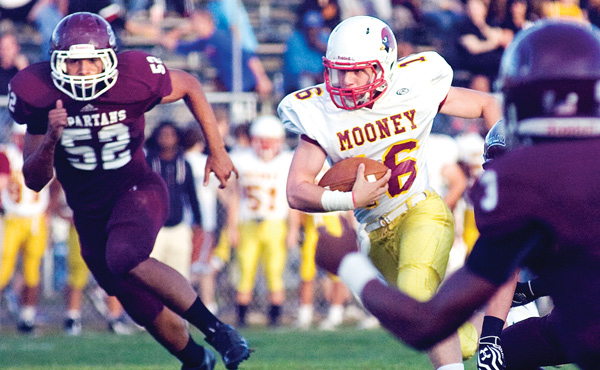 Photo
Cardinal Mooney quarterback Jon Saadey takes off running with the football as he's chased by Boardman defender Alex Birchfield during a regular-season game. The junior quarterback has been tasked with running the Cardinals' run-first offense that is preparing for a second-round playoff game against Struthers.
YOUNGSTOWN
Cardinal Mooney High quarterback Jon Saadey isn't asked to do much.
Handoff left to Mark Handel. Handoff right to C.J. Amill. Handoff up the middle to Handel. You get the idea.
When the junior stands in the huddle awaiting the play call, chances are it's going to be a running play. But don't confuse that for a lack of importance in the Cardinals' run-heavy offense.
"Jon's had a great year," said Handel, a senior running back. "He's not called upon much, but we have confidence in him when we do ask him to throw, that he will make the play."
Saadey has completed 68 pass attempts for 1,047 yards — just above 15 yards per completion. He's also thrown for nine touchdowns, or roughly one every seven or eight completions.
His numbers don't jump off the page, and they don't have to in head coach P.J. Fecko's offense. Saadey's job, according to his coach, is simple.
"Manage the game, put us in good situations, get us in and out of some different plays and read some different things," Fecko said. "And then when we call on him to throw the ball, throw strikes."
As the Cardinals (7-4) prepare for their second-round playoff matchup against Struthers, the film of their opponent is going to look awfully familiar. The Cardinals and the Wildcats (9-2) have almost identical styles.
Both have quarterbacks who've attempted less than 150 passes, and both have running games that are called upon to control the clock and pick up first downs.
The only real difference is Struthers has a workhorse in the backfield (Luke Witkowski) while the Cardinals have a pair of runners to hand the ball off to — something they feel keeps the defense off guard and their backs fresh.
"It just depends what the game presents," Fecko said of his offensive gameplan. "I think a lot of factors deal with that — field position, down and distance, momentum — so we're gonna go and play our game and try to configure things and do what the situation calls for."
Cardinal Mooney defensive back Denver Martin has seen plenty of his team's offense during the year, but knows just because the Wildcats look the same doesn't mean they play the same.
"We see it everyday in practice and we go over it more and more every week," Martin said. "It just so happens that we're doing the same thing so it does benefit both sides, I think."
Friday night's game will be played at Niles' Bo Rein Stadium, meaning a packed house is expected.
"I always love playing in front of a local crowd," Martin said. "Tons of people come out and it's always fun."
No matter the elements, there's one player on the field who will be in control. But you'll have to make an effort to notice him.
"Last year, towards the end of the year, you kinda saw it then, and even more now this year," Handel said of Saadey. "He's stepped up and is definitely our leader."