Boardman church to serve 58th annual benefit turkey dinner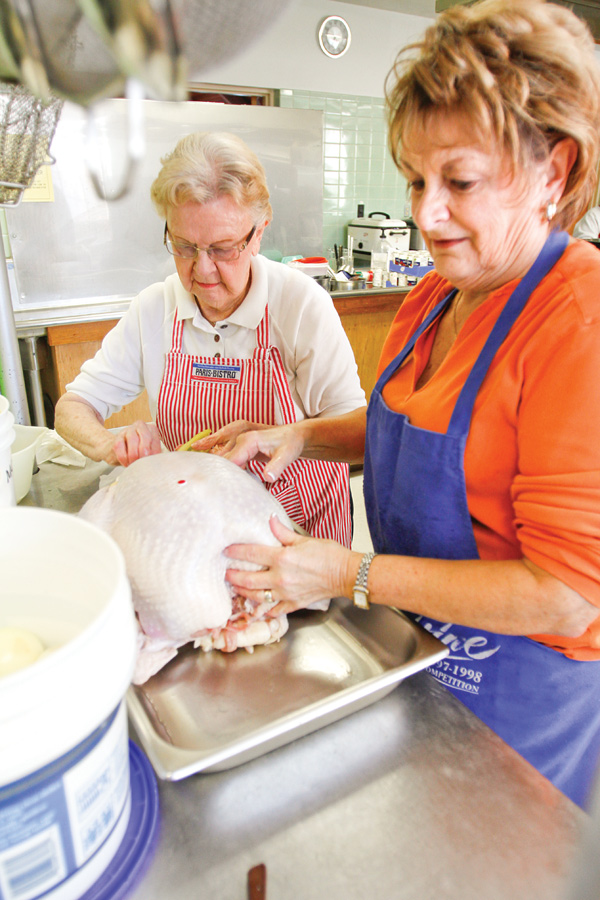 ---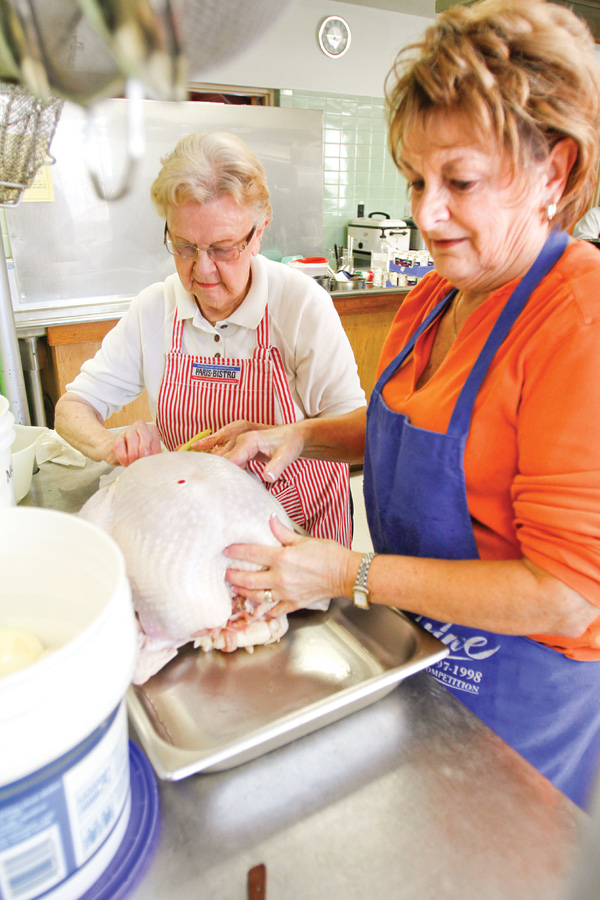 Photo
Joyce Rettenmier, left, and Jan Ugran, coordinator with Kathy Longmuir of the turkey dinner at Boardman United Methodist Church, prepare one of 20 turkeys to be roasted. For its annual dinner Thursday, the church will prepare some 427 pounds of turkey.
By LINDA M. LINONIS
linonis@vindy.com
BOARDMAN
The turkey dinner crew at Boardman United Methodist Church will roast 427 pounds of turkey and chop up 28 heads of celery, dice 20 pounds of onions and cut up 50 loaves of bread for dressing for its annual dinner Thursday.
The event, which began in 1955, is marking its 58th year. Kathy Longmuir and Jan Ugran are dinner coordinators. Longmuir said early information from church history notes the late Charlotte Brown started the event. "It was to raise money for missions of the church," she said. Other funds for the missions come from "trash and treasure" sales at the church.
That purpose continues. Last year, the fundraisers totaled about $13,000. Among recipients that received varying portions of funds were Protestant Family Service, United Methodist Community Center,
Rescue Mission of Mahoning Valley, Salvation Army, Berea (Ohio) Children's Home, Church Women United and its leprosy fund and Sojourner House.
Longmuir said about 130 church members work on the project, each performing specific jobs. She said spreading out the work doesn't burn out the volunteers.
Preparation for the dinner, which serves about 500 meals, began Tuesday with the roasting of the whole turkeys in addition to 60 pounds of turkey breasts. The crew also packaged cranberry salad for takeouts, which generally number about 200. About 300 sit-down meals are served in the church fellowship hall, where a crew also prepares by arranging tables and setting up chairs.
Today, volunteers will carve 20 turkeys ranging in weight from 22 to 25 pounds, and "bone pickers" will remove meat that can't be sliced from turkey legs and backs. The bones will go to make a stock used in the dressing, Ugran said.
On Thursday, pumpkin and apple pies will be baked, mashed potatoes and dressing prepared and gravy made from the reserved turkey drippings.
"It's all homemade," said Ugran, a member since 1969 and volunteer since 2004 when she retired as a culinary arts teacher at Mahoning County Career and Technical Center.
Ugran said fellow member Longmuir got her involved in the project. Longmuir said though the church had been putting on the dinner for years, she felt Ugran's expertise in food preparation and safety would be valuable input.
"It's important to meet food-service sanitation guidelines," Ugran said, noting that eliminates the chance of any food-borne illnesses. She also introduced the use of meat thermometers to make certain the turkeys were fully cooked.
Longmuir and Ugran said the turkey dinner is work, but it's made lighter by the fellowship and fun that the preparation crew shares. A list of daily duties helps organize the process.
Bethany Bulone, a member for two years, took the job of dicing onions. She teared up when talking about the dinner, but not because of the onions. "This church is my second family," she said. "It's been a great help to me."
She and her daughter, Angela, 12, moved to the Valley after the death of her husband. She said the church "has made us feel like we belong."
The male volunteers said they're the bunch "that does anything and everything ... the heavy lifting .. and are the go-fers and do-fers."
Gordon Longmuir, Kathy's husband, said being part of the dinner is just like being part of a family feast preparation. "We have a lot of fun and fellowship."
And a bonus, he said, is that the carving practice for the church dinners has improved his at-home Thanksgiving Day skills.
Ron Babyak, a 15-year member, said he does various jobs as a "floater." "I feel like it's a happy family here," he said.