---
Tuesday, November 12, 2013
Blitz: Week 12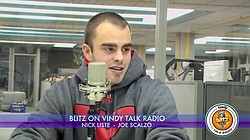 Video Set
Vindy Talk Radio Blitz will be on the air at 6 p.m. Nov. 12 with our host Vindicator sports reporter Joe Scalzo.
Youngstown State University punter Nick Liste, a Niles McKinley High School grad, will stop into the show. As Scalzo argued in a recent article, Liste is having a career year: He's leading the Missouri Valley in punting average and has already tied a school record with four conference player of the week awards.
How far will local teams climb in the playoff rankings? Our sports buffs will take time to discuss playoff play and standout players, teams and games.
Go to vindy.com/blitz to listen to the show live. Videos highlights of each show will be posted by Wednesday at www.vindy.com/blitz/videos/.
Vindy Talk Radio Studio: 330-333-4454