J.J. Corbett led the way for other black military paratroopers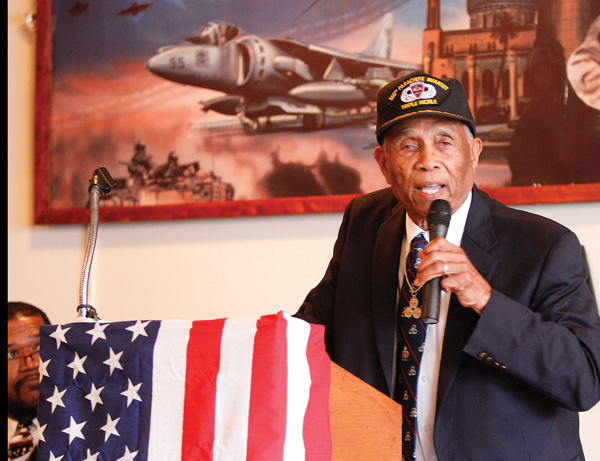 ---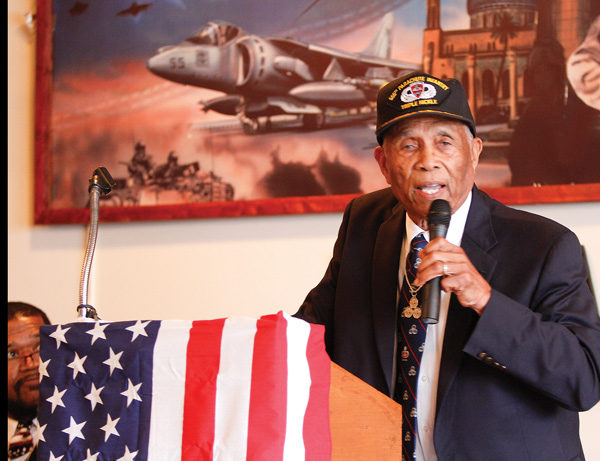 Photo
Jordan J. Corbett of Florida, one of three living members of the Army's historic 555th Parachute Infantry Battalion, the first all-black paratrooper unit in the military, talks about his experiences at Monday's VFW Post 6488 and Ladies Auxiliary Veterans Day program.
YOUNGSTOWN
Jordan J. Corbett, one of the original 17 members of the all-black 555th Parachute Infantry Battalion, is one of the men on whose shoulders modern-day black paratroopers say they stand.
Corbett, 87, and his wife of 60 years, Eva, of Florida, were guests of honor at the VFW Post 6488 and Ladies Auxiliary annual Veterans Day program Monday.
The Army's 555th, known as the Triple Nickels, was the first all-black parachute unit in the military, including officers and enlisted noncommissioned officers.
The time was 1942-43, and the U.S. Armed Forces were still segregated. It wasn't until July 26, 1948, that President Harry Truman issued an executive order abolishing racial discrimination in the nation's military.
"There were many problems, but I've tried to not concentrate on the negative. I really appreciate that the Lord has kept me here to receive this recognition on behalf of the other men who were in the unit," said Corbett, one of just three of the original 17 still living.
Corbett didn't go into the Army as a member of the 555th. He was drafted and trained in a regular Army unit. But when it was sent overseas, he was pulled out and sent to Fort Bliss, Texas.
It was there that he found out a black paratrooper unit was being formed, and he signed up.
"I don't think I was thinking at the time that we were making history, but I think our officers were," he said.
Corbett said he, too, stood on the shoulders of people such as Carstell O. Stewart, a corporal in the 555th, who missed the original graduation because of a death in the family, but got his wings a week later.
Stewart's wife, Mary E. Stewart of Akron, also attended Monday's program.
James Fortune and Ronell Carter, military paratroopers and members of Post 6488, said Corbett and the 555th paved they way for future black citizens in the military.
"I never thought I'd see the day I'd put my hand in the hand of one of the men who led the way," said Fortune, former president of Youngstown City Council and 6th Ward councilman.
"I'm proud and humbled," said Fortune, who enlisted in the Army at 15 and was part of the 101st Airborne contingent sent to Little Rock, Ark., in 1957 to protect black students integrating Central High School there.
"We didn't fire a shot, and those kids went to school," said Fortune, who said the military was the stepping stone in his life.
"J.J., you made the way for both of us," said Carter, who was a paratrooper with the 187th Airborne Regimental Combat Team from 1953 to 1956 during the Korean War.
"The Triple Nickels were men who defended the U.S. and freedom and liberty even though those things were not open to them because of racism," said the Rev. Mr. William Blake, director of the Office of Student Diversity at Youngstown State University and pastor of the First Baptist Church of Windham.
"We are still confronted by racism, and we have to be just as persistent at the Triple Nickels. They were kept from fighting in Europe, so instead they fought Japanese balloon bombs carried on wind currents that landed and started forest fires in the Northwest," the Rev. Mr. Blake said.
The 555th became the military's first smoke jumpers.
Corbett received proclamations from the city and city council, Mahoning County commissioners, and state and federal representatives.
Corbett also received a painting depicting himself as a young paratrooper painted by Youngstown Artist Ray Simon, who has become well-known nationally for his tribute paintings of military, police, firefighter and sports subjects.
The program chairmen were Herman Adams; Earl McAlway, Post 6488 chaplain and program master of ceremonies; and Katherine Williams.
Among others who participated were Ulyses Rucker, Post 6488 commander; Sandra Smith-Graves, Ladies Auxiliary president; Judge Robert P. Milich of Youngstown Municipal Court, a retired Air Force Reserve lieutenant colonel; and Ohio National Guard Lt. Col. Jeff Watkins.
More like this from vindy.com