The Youngstown mayor-elect expects to select his cabinet by mid-December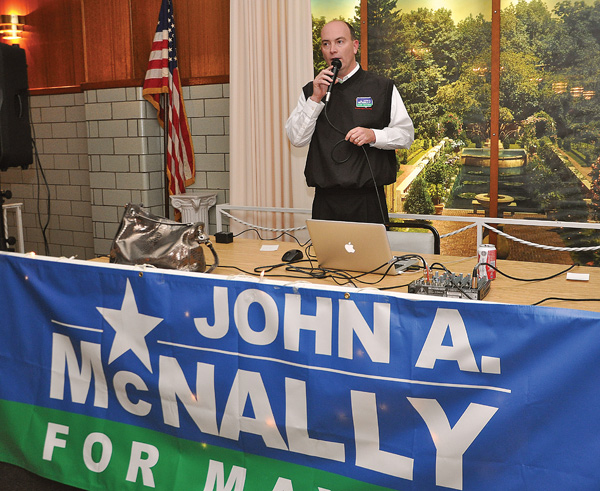 ---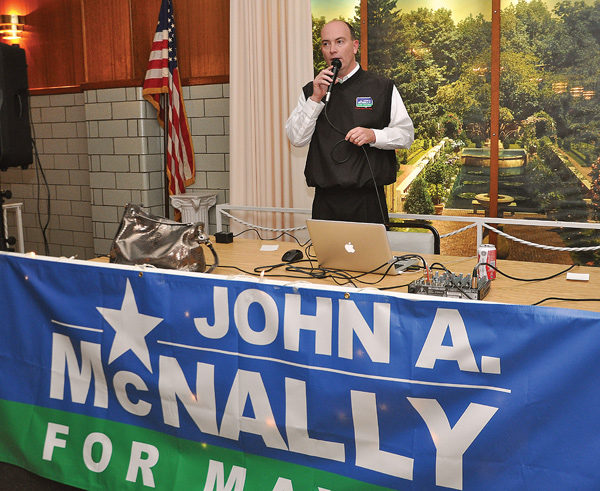 Photo
Youngstown Mayor-elect John McNally IV, seen here on election night, takes office Jan. 1.
YOUNGSTOWN
Mayor-elect John McNally IV expects to make decisions on who will serve in his cabinet by mid-December, about two weeks before he takes office.
McNally said he will be seeking resumes shortly for those interested in those jobs.
"I want to gather information by Dec. 1, look through it, talk to folks as well as talk to [current] department heads and see who's interested in staying" before making those decisions, McNally said.
McNally, who takes office Jan. 1 after his general election victory last week, said the people he hires for cabinet posts will be chosen solely by him with no assistance from a screening committee.
"I've received phone calls from people interested in positions," he said.
Those jobs are: chief of staff/secretary, police chief, fire chief, finance director, water commissioner, deputy director of public works, buildings and grounds commissioner, law director, prosecutor, and attorneys in the latter two departments.
McNally said he will talk soon with outgoing Mayor Charles Sammarone, re-elected last week to his previous job of city council president, about the mayoral position.
McNally, a Democrat, won a convincing victory last week over five other candidates, though it was a two-man race with DeMaine Kitchen, Sammarone's chief of staff/secretary and an independent candidate. McNally received 54.5 percent of the vote to 43 percent for Kitchen.
Kitchen took a six-week leave of absence to run for mayor. His first day back was Monday, but city government was shut down because it was Veterans Day.
Kitchen said he'd be willing to "help [McNally] if he wants help [during the transition]. Obviously, it's up to him to determine what, if any, help he needs."
McNally, a former city law director and Mahoning County commissioner, was noncommittal Monday about meeting with Kitchen to discuss city operations.
"I need to talk to the mayor first," he said.
After McNally won the election, he said he would make calls to discuss ways to improve education in Youngstown with Connie Hathorn, the city's superintendent of schools; Bishop George Murry of the Roman Catholic Diocese of Youngstown, who oversees the city's Catholic schools; and the office of Gov. John Kasich.
Kasich, a Republican, said Oct. 28 that he wants to help fix the city school system and to discuss improving education in Youngstown — without providing specifics.
McNally said Monday that he's had a couple of brief conversations with Hathorn and preliminary discussions with the bishop and principals of some of the Catholic schools.
Instead of the governor's office, McNally said he's talked with the county's state legislators, who are all Democrats, to develop a united front before talking with Kasich's administration.
Meanwhile, an investigation into sexual harassment claims by Lyndsey Hughes, a city council employee, against Kitchen doesn't seem that close to wrapping up.
The investigation turned over by the city to Steve Sample, a retired Summit County sheriff's detective, started Oct. 7.
Kitchen strongly denies the claims and had contended the accusations were politically motivated as Hughes is a McNally supporter.
Kitchen said he talked with Sample just before the election asking to schedule a meeting for some time after the election. As of Monday, Kitchen said he hasn't heard from Sample since that initial call.
Sample — being paid $60 an hour up to $10,000 — sent Hughes' cellphone to an outside agency to verify the authenticity of inappropriate text messages supposedly sent by Kitchen to her.
"Once the technical report is done, [Sample's investigation] should be done shortly thereafter," city Law Director Anthony Farris said. "It's my speculation that he's pretty much doing all the things he needs to get done. Once [the technical work] is done, he'll probably have a report done shortly."