Sharon football players practice with heavy hearts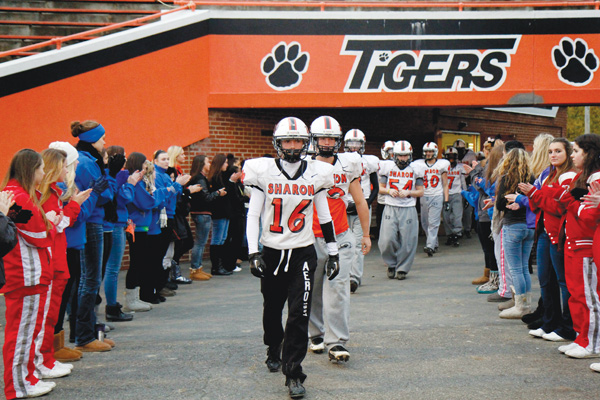 Photo
Supported by a group of family and friends, the Sharon High football team walks out onto the field Sunday for their first practice since Friday's auto accident that claimed the lives of two teammates and left two more hospitalized. The tragedy came a day before the Tigers were to face Girard (Pa.) in Round 1 of the PIAA playoffs, which will be played tonight in Erie. Players will wear stickers with "C.S." and "E.G." on their helmets to honor teammates Corey Swartz and Evan Gill, who were killed.
Tigers practice with heavy hearts after losing teammates
By Kevin connelly
SHARON, Pa.
It was a light walk-through, wearing only shoulder pads and helmets, but the Sharon High School football team was back on the football field less than two days since a fatal car accident that took the lives of teammates Corey Swartz and Evan Gill.
The Tigers were greeted by a group of friends and family members as they walked out of the locker room at Sharon High Stadium Sunday afternoon. The team was trying to prepare for the school's first playoff game in three years, but had to do so without four senior starters.
In addition to Swartz and Gill, twin brothers Craig and Gregg Osmon were also in the vehicle when it collided head-on with a truck, killing its driver, John Zdelar Jr.
Sharon head coach Jim Wildman said his team's focus wasn't all there in the team meeting prior to practice, but once it stepped out on the field it responded very well.
"Tonight was rough for me, even before coming here," senior tight end Daniel Vanderslice said. "I always wanted to play [the game] because I knew this is what they wanted — I knew they wanted to be out here.
"They've been looking forward to this their whole life."
The Tigers are coming off 1-9 and 2-8 seasons the last two years, so for them to finish 6-4 this year and earn a playoff spot was something the senior class took pride in.
"Knowing that they're not out their with me just killed me," Vanderslice said. "I'm not lying, I really do have a broken heart. I lost two friends, but mainly two of my brothers. I've known them my whole life and it was just very emotional for me.
"I'm playing [tonight]'s game for them."
Sharon will travel to Erie Veterans Stadium tonight for a first-round playoff game against Girard, Pa. The game was rescheduled at the request of the senior class.
Athletic director Paul Torr said the school is planning to have a bus ready to transport fans to the game. He may need more than one based on the hundred who attended the vigil held Sunday evening after practice concluded.
"It gives them a much-needed lift to let them know it's not just 50 guys in here and 10 coaches trying to lead them by the hand," Wildman said. "The community responded, the school responded, it has been absolutely incredible and it would make anybody feel good about where they live and where they go to school and who they play for."
Senior Austin Alfreno has been with the Osmon brothers in the hospital all weekend, and said the two starting offensive linemen echoed their teammates' sentiment about wanting to play the game.
"It was a really emotional decision," Alfreno said. "We felt that Evan and Corey, if we didn't play the game, would be made at us so we knew that they would want us to play."
Alfreno, who used to be the holder for Gill on field goals, said practicing kicks on Sunday was difficult.
"They were the funniest guys ever," Alfreno said with a smile. "Corey would always be singing, or dancing, or saying funny things. Evan, he was always just being goofy."
When he was trying to pick out pictures of his teammates for the funeral, Alfreno said it wasn't hard finding ones where they were being themselves.
"I mean every picture they were making a pose, or making a funny face. They were always being silly," Alfreno said. "They just always knew how to make us laugh and we loved them for it."
None of the players knew what their feelings would be like when they took the field for tonight's game. The one thing they were sure of is they weren't going to be alone.
"I know in my heart that they're with me, and on the sidelines I know I'll hear them cheering for me no matter what happens," Vanderslice said. "They're going to be cheering for the whole team just hoping we're gonna win. I know they're gonna be there in spirit."
Wildman said the team will wear paw-shaped helmet decals with the initials and jersey number of Swartz and Gill. Beau Dignall will wear Gill's No. 67 jersey and Troy Hejazi will wear Swartz's No. 9 jersey. Kendall Sheffield and J.J. Jackson will also wear 70 and 72, as they start in place of the injured Osmon twins.
"I'll try and control my emotions at that time," Wildman said. "I think once the ball's kicked off, they'll be ready to play football and I think they'll play football with one kid on one shoulder and one kid on the other."