Sharon community mourns deaths at vigil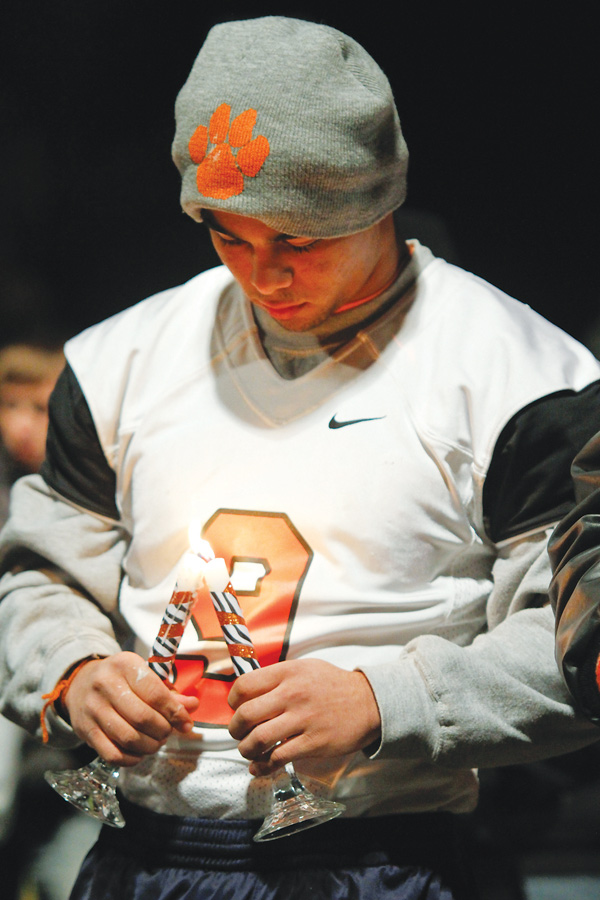 ---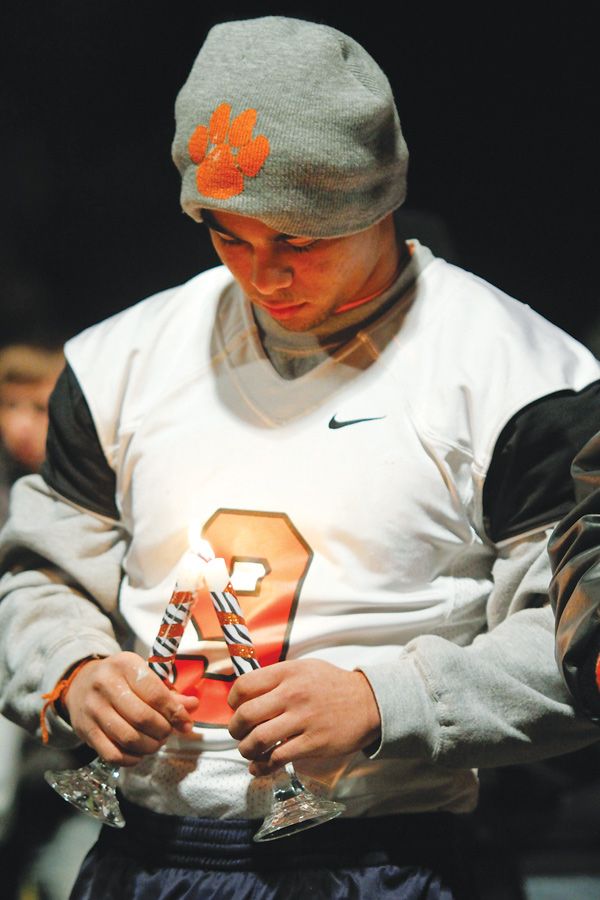 Photo
Sharon football player Troy Hejazi mourns teammates Corey Swartz and Evan Gill during a vigil Sunday at the stadium.
By Kalea Hall
Sharon, PA
A crowd of hundreds stood united Sunday evening at the Sharon High School Stadium with index fingers in the air.
Gathered as one to remember two Sharon football players and a Brookfield resident lost in a tragic head-on collision, the crowd — filled with emotion — held lit candles and looked up into the sky.
"As you look around, there are many of us, but we are one family," said the Rev. James A. Reardon, a former Sharon football player. "We are one as Tigers."
Corey Swartz, 18, and Evan Gill, 17, were the two senior football players many friends remember as uplifting, funny guys with a contagious energy.
Both were killed Friday evening, the night before the team's first-round playoff game.
Their teammates Craig and Gregg Osmon, 17-year-old twins, are still in St. Elizabeth Health Center after undergoing surgery.
Also killed in the accident was a father with a love of racing and farming, John Zdelar, 50, of Brookfield. His stepson, a passenger, Evan Wallace, 10, was released from UPMC Children's Hospital on Sunday. Blake Yenderak, 12, another passenger, was released from the hospital after being treated Friday night.
The football players were on their way home from watching a playoff game at Hickory High School Stadium when Swartz's Mazda sport utility vehicle went left of center on East Connelly Boulevard and struck Zdelar's Chevrolet Silverado pickup.
Police said alcohol, drugs or texting do not appear to have been factors in the crash.
Sharon police and fire personnel were called to the scene at 10:05 p.m. Swartz and Gill were pronounced dead by Mercer County Coroner Brad McGonigle. Zdelar was taken to Sharon Regional Health System and pronounced dead at 10:52 p.m.
"We are here to remember that loss and to grieve for that loss," the Rev. Mr. Reardon said at the vigil. "It is that loss that we are hurting today. That [lost] physical presence really hurts. It sucks."
Mr. Reardon directed his attention at the grief-stricken team dealing with the loss of two teammates and two others still in the hospital, reminding them of the angels they have looking out for them now.
"You will continue to be No. 1," Reardon said. "You will be like champions."
Friends of Swartz and Gill told the crowd about the memories that still live on of their friends and teammates.
"They were the best guys I ever met," said Austin Alfreno, a teammate. "All they wanted to do was make you laugh or smile."
The crowd erupted with laughter when Alfreno recalled the plan the three had of going to a strip club for the first time when they all turned 18.
"I loved them so much," Alfreno said.
Another friend and teammate of the two, Troy Hejazi, brought comic relief to the crowd with an impression of Gill making fun of him for his high-pitched voice and short stature.
"Evan and Corey were a big part of this family right here," Hejazi said. "It hurts a lot, but I know they are going to be right on my side as my guardian angels."
Everyone in the crowd, surrounding the players, extended their arms toward them as Mr. Reardon prayed for God to bless the team.
With just candlelights, the crowd sang "Amazing Grace" and the Sharon alma mater.
"We came together as a family and we have to move forward as a family," Mr. Reardon said as his parting thoughts to the players. "Your preparation to move forward starts right now. When you do something well, point up to the heavens and thank them."
The Tigers will play at 7 tonight at Erie Veterans Stadium.
Zdelar's wife, Kim, 46, also of Brookfield, wants people to remember what a wonderful person her husband was. Zdelar loved farming and worked on his dad's 80-acre farm. In fact, Saturday morning he was supposed to go and buy his first big tractor.
"He was a super-nice guy," Kim said. "He wanted to be a farmer like his dad."
Zdelar was also a pit-crew chief for the King Brothers at Sharon Speedway. Kim said they were married for four years, and he took on his role as a stepfather to her three children.
"He was an awesome stepfather," Kim said.
Zdelar and the boys just left the Brookfield football game and were heading to Evan's dad's house.
"I do feel bad for everyone involved," Kim said. "I hope that everyone can learn from this. Make sure you say 'I love you' before you go."