BattleSaint project is show of support for U.S. military personnel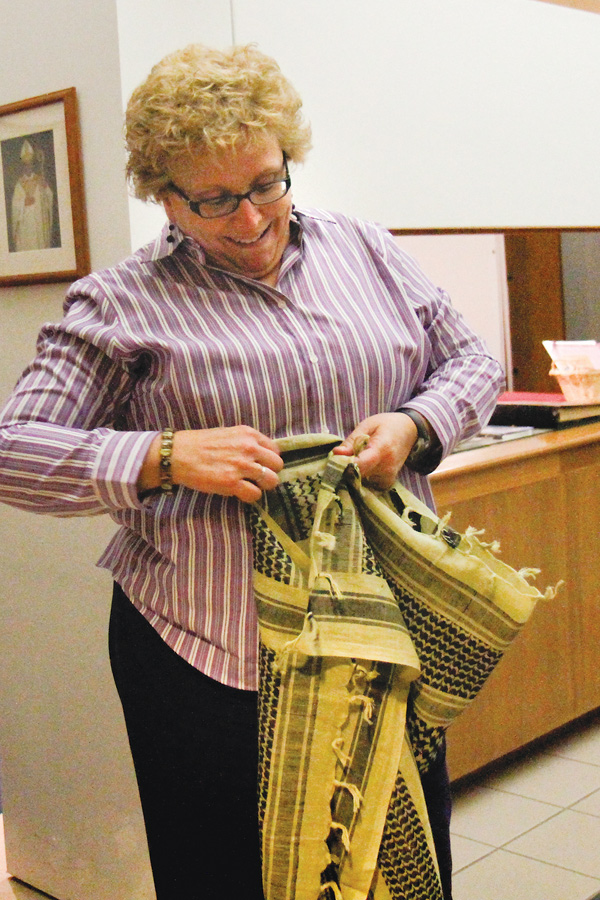 ---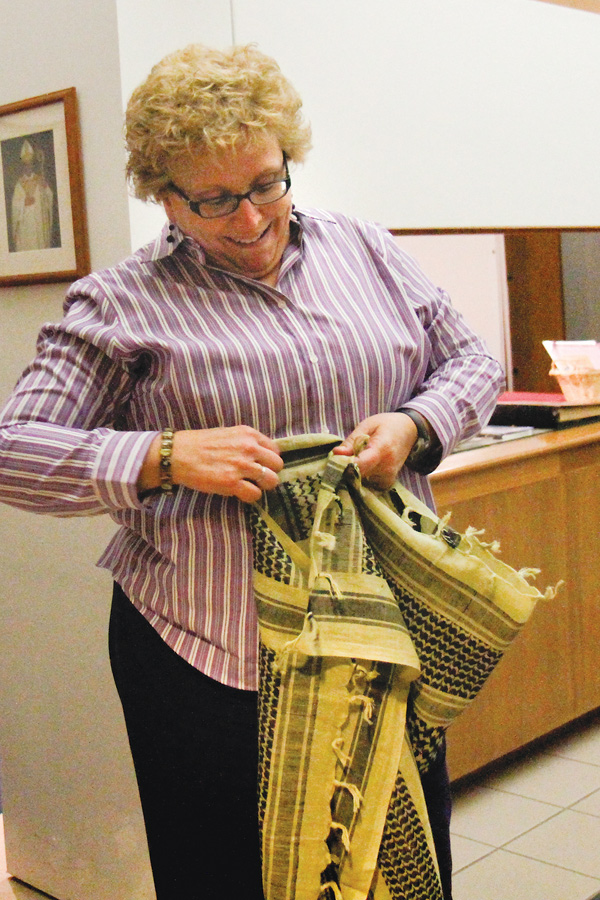 Photo
Pat Campbell, director of music and worship at Blessed Sacrament Church in Warren, folds a BattleSaint scarf to wear. The church also has the scarves for sale.
By LINDA M. LINONIS
WARREN
Blessings at Masses over the weekend at Blessed Sacrament Church remembered past and present military personnel in the U.S. armed forces. And prayer went hand in hand with support of the BattleSaint bracelet project.
Pat Campbell, director of music and worship at the church at 3020 Reeves Road NE, said during the three weekends leading up to the Veterans Day observance, the church sold BattleSaint bracelets.
The wooden bracelets come in black, brown and green and in small, medium and large sizes. They feature pictures of saints including St. Barbara, St. Michael the Archangel, St. Anthony of Padua, St. Christopher, St. Nicholas of Myra and Joan of Arc. The saints, in various ways, are patrons for military personnel.
Campbell said she learned about the project when her son, U.S. Army Capt. Thomas Campbell of Fort Lewis, Wash., was deployed in Iraq the second time. He also served in Afghanistan.
Additionally, BattleSaint scarves were sold. Campbell said her son told her the cotton scarves are worn to protect against the sun and sand in Iraq and Afghanistan. The large scarves come in green with black design and a sand color with a green cast, also with a black design. The colors evoke the idea of "Army green" and camouflage.
Campbell said the bracelets are sold for $5 and scarves for $15. The BattleSaint project was founded by a military mother as a way to support those serving in the U.S. military. It began after she realized seven family members were in the service.
A dollar from each bracelet sale and $3 from each scarf sale goes to the Intrepid Fallen Heroes Fund that helps military families financially. Funds also built the Center for the Intrepid, a state-of-the-art physical rehabilitation center at Brooke Army Medical Center in San Antonio, Texas.
Campbell said the bracelets and scarves serve as a show of support for the American military personnel.
"It also is a reminder to keep military personnel in your prayers," she said, adding that they are making a sacrifice for their country and placing themselves in harm's way.
For military personnel who wear the bracelets, the saints can provide a source of inspiration and comfort.
Campbell said the church has sold about $700 in bracelets and scarves so far and she expected that to tally about $1,000 after weekend sales.
"The response has been amazing," she said.
The church, like many others, recognizes current military personnel on a special display. Parish members filled out prayer cards and special prayers were offered for past and present military personnel, who also were recognized by the Rev. Thomas C. Eisweirth, pastor.