Dinner party honors Porfilios for golden event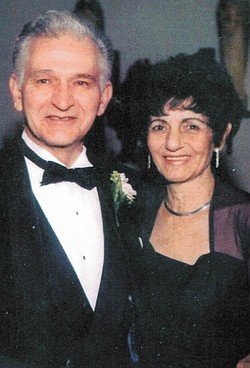 Photo
Mr. and Mrs. Louis Porfilio
CAMPBELL
Louis and Gloria Jean Porfilio of Campbell, their family and friends all celebrated the couple's 50th wedding anniversary at a dinner party Nov. 9 at Station Square Restaurant, Liberty.
Hosting the event were their son, daughter and their families: Ralph (Bernadette) Porfilio and granddaughter Brianna, all of Cleveland; and Marla (Robert) Kouche of Cincinnati and grandchildren Ryan and Allyson Kouche.
The former Gloria Jean Tamburrini and Mr. Porfilio were married Nov. 9, 1963, at Immaculate Conception Church in Youngstown.
Mr. Porfilio retired in 2011 from his work as a machinist. He also served in the U.S. Army from 1961 to 1963. He is a member of the Chevy Classics Club. Mrs. Porfilio retired in 2003 as a secretary-bookkeeper and a Realtor with the Youngstown Board of Realtors. After retirement she wrote a book, "The Shadow of My Children."
The couple are members of St. Joseph Church in Campbell and Our Lady of Mount Carmel Church in Youngstown.