Bernats celebrate 50th with Mass and a reception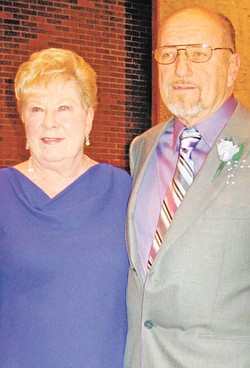 Photo
YOUNGSTOWN
Andy and Peggy Bernat of Youngstown celebrated their 50th anniversary Oct. 26 with a Mass at Our Lady of Sorrows Parish (St. Matthias Church), and a reception at Ciminero's Banquet Center in Niles.
Their children, Dave (Patty) Bernat of Boardman and Lisa Bernat (Mike Firmstone) of New Middletown, hosted the reception.
Two grandchildren complete the family.
Mr. Bernat married the former Peggy Gorgei on Oct. 26, 1963, at St. Joseph Church.
Mrs. Bernat retired in 2008 from the Youngstown Water Department, where she worked as a clerk.
Mr. Bernat retired in 2003 from Indalex in Girard, where he worked as a packer. He is a U.S. Army veteran.
The couple are members of Our Lady of Sorrows. They also took a trip to Italy in May as part of their celebration.