Holiday brunch, sweets will benefit Easter Seals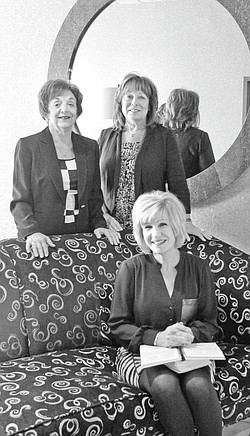 Photo
ROBERT K. YOSAY | THE VINDICATOR Angels of Easter Seals is planning its annual holiday fundraiser for Dec. 4. Among those involved are Phyllis Bacon, seated, a chairwoman of the event, and behind her, Joan Zarlenga, left, chairwoman, and Kathy Carroll, Angels president.
Staff report
BOARDMAN
A Holiday Brunch and Sweet Shoppe, sponsored by the Angels of Easter Seals, will help welcome the season when it begins at 10:30 a.m. Dec. 4 at Mr. Anthony's, 7440 South Ave.
The cost is $30 per person, and table reservations are available. To make reservations or buy cookbooks, call 330-599-5500.
At 10:30 a.m., mimosas will be served, followed at 11:30 by the brunch, which will feature entr es from the Angels cookbooks. The menu will comprise frozen cranberry salad, red leaf lettuce salad, seafood crepes, provolone chicken, vegetable quiche, pancetta green beans and pizza fritta.
The Angels will sell more than 30 varieties of homemade cookies, also from the cookbooks: Angels and Friends Volume I, II and III, and Party Favorites.
Among the features of the event will be an auction in a bag, a 50-50 raffle, and sales of centerpieces and cookbooks. Surprise silent auctions will offer several prizes.
Possessions of Boardman will provide a fashion show of cocktail, casual and holiday designs, along with accessories such as purses, belts, scarves and jewelry for sale. A portion of the sales will benefit Angels of Easter Seals.
Chairwomen of this event are Phyllis Bacon, Emily DeToro and Joan Zarlenga. Proceeds benefit children and adults with special needs served by the Easter Seals Center and Youngstown Hearing and Speech Center.