Local black paratroopers to thank honoree Corbett for paving the way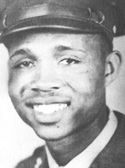 ---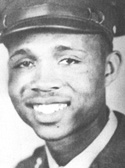 Photo
SEE ALSO: • Veterans Day events in the Valley
• Three Valley veterans honored in Columbus
YOUNGSTOWN
Jordan J. Corbett, one of just three living original members of the first all-black Army parachute unit, 555th Parachute Infantry Battalion, will be guest of honor at the VFW Post 6488 and Ladies Auxiliary Veterans Day observance Monday.
The public program will begin at 11 a.m. at the post home at 2065 Coitsville-Hubbard Road.
William Blake, director of the Office of Student Diversity Programs at Youngstown State University, is the keynote speaker.
James Fortune and Ronell Carter of VFW Post 6488 will present special tributes to Corbett for helping pave the way for blacks in the military.
Fortune, former Youngs-town City Council president and 6th Ward councilman, was a paratrooper with the 101st Airborne Division. He was with the 101st contingent sent to Little Rock, Ark., in 1957 to protect black students integrating Central High School there.
Carter, of Youngstown, was an Army paratrooper with the 187th Airborne Regimental Combat Team from 1953-1956 during the Korean War era.
Corbett will talk about his experience in the historic 555th, nicknamed the Triple Nickles because of the numerical designation, the first black parachutist unit in the Army.
The U.S. military was segregated when the 555th was formed and trained from 1943 to 1946 during World War II. It wasn't until July 26, 1948, that President Harry S. Truman issued an executive order abolishing racial discrimination in the nation's armed forces.
Corbett, 87, who served in the Army from 1943 to 1946, is a graduate of North Carolina A&T. He is a retired schoolteacher, coach, school board member and a bank director.
The 555th Parachute Infantry Battalion, formed as a parachute infantry test platoon, was combat-ready and put on alert for duty in Europe late in 1944.
The unit, however, attached to the 82nd Airborne Division at Fort Bragg, N.C., consisting primarily of former university students, professional athletes and veteran noncommissioned officers, never made it into combat.
Instead, most of the unit was sent to Pendleton Field in Oregon for a dangerous and secret operation — jumping over forest fires in America's Northwest searching for Japanese balloon bombs.
Assigned to the 9th Service Command and trained by the U.S. Forest Service, the 555th became history's first military smoke jumpers and paved the way for black soldiers to follow.
Presentations will be made to Corbett by several local elected representatives. Program chairman is Herman Adams; co-chairpersons are Earl McAlway and Katherine Williams. Ulyses Rucker is VFW 6488 commander.