Murder suspect held in Trumbull jail without bond eligibility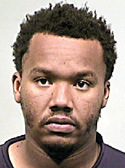 ---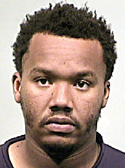 Photo
By Ed Runyan
WARREN
A judge has ordered TaShawn Walker, 26, to be held in the Trumbull County Jail without eligibility to make bond in the killing of Richard C. Rollison IV.
Walker was arraigned by video Thursday from the jail by Judge Terry Ivanchak of Warren Municipal Court, who entered an innocent plea for him.
Judge Ivanchak said warrants were issued for Walker's arrest for failing to appear on two earlier cases. That and the severity of the new charge indicate that Walker is a flight risk and therefore isn't eligible for bond, he said.
Walker gave the judge his address and other information, including the name of his attorney, Lynn A. Maro.
Several women who left the courtroom just after Walker's arraignment were approached for comment, but one said she would not. "You all just lie about Taemarr anyway," she said of TaShawn's brother, Taemarr Walker, who was killed by a Warren police officer Oct. 19.
TaShawn Walker was brought to Warren overnight from a jail in the Houston area and was booked into the Trumbull County Jail at 12:59 a.m.
He is charged with murder for purportedly shooting Rollison, 24, multiple times in the back and leg at a West Market Street gas station early Oct. 26.
Police have not stated a motive in the killing, which occurred soon after TaShawn Walker and his father, Thomas L. Walker, 44, were seen in the J&L Tavern on Highland Avenue in Warren Township.
Witnesses said the Walkers were in the tavern, which is just south of Warren, confronting people over what they felt was a celebration of the death of TaShawn Walker's brother, Taemarr Walker, exactly one week earlier.
Taemarr Walker, 24, of Kenwood Avenue Southwest, was killed by gunshots from the weapon of a Warren police officer on Risher Road early Oct. 19.
Taemarr Walker, who had an extensive criminal record, crashed his car into a ditch on Risher while trying to avoid a tow truck, then reached for a handgun in the car before he was shot, according to statements captured on dash-cam video from another officer's cruiser.
TaShawn Walker has addresses in Baytown, Texas, and his mother's house on Jackson Street Southwest in Warren. His next hearing will be in Warren Municipal Court within 10 days unless he's indicted by a Trumbull County grand jury before then.
More like this from vindy.com