Mahoning Red Kettle campaign's goal is $320,000 for 2013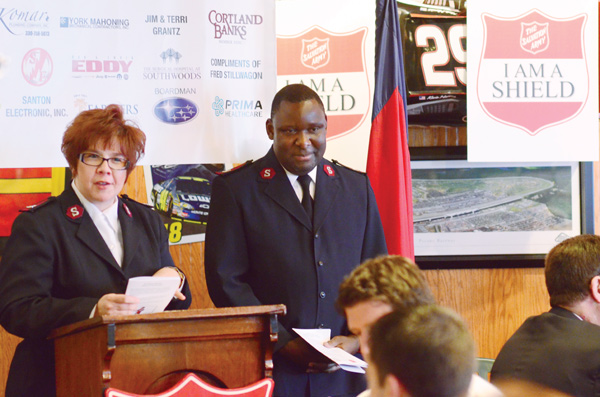 ---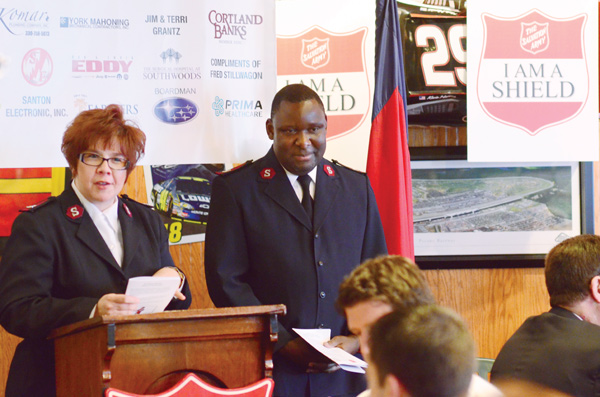 Photo
Salvation Army Majors Valerie and Elijah O. Kahn, Mahoning County area services coordinators, introduce the keynote speaker, Gary Meszaros, owner of Quaker Steak & Lube in Boardman, during Thursday's 2013 Red Kettle Campaign kickoff breakfast. The kettles and bell ringers will be at area shopping centers beginning Monday .
BOARDMAN
The Mahoning County Salvation Army's red kettles and bell ringers will be at area shopping centers beginning Monday through Christmas Eve.
The Salvation Army Mahoning County Area Services began its annual fundraising campaign with the Red Kettle Kickoff and Breakfast on Thursday, hosted for the third year by Quaker Steak & Lube in Boardman.
Maj. Elijah Kahn, area coordinator for Mahoning County Area Services, said, "Our community partners recognize the increasing need in this community and are willing to step up to the challenge to ensure that no one is without a meal, a warm place to sleep, or Christmas joy."
The goal for this year's kettle campaign is $320,000, and Gary Meszaros, Quaker Steak & Lube founder and executive vice president and 2013 honorary campaign chairman, gave the fundraising effort a jump-start by donating $1,000.
The 2012 Red Kettle campaign exceeded its goal of $300,000 by raising $350,000.
Meszaros, keynote speaker, challenged other individuals, businesses and organizations to match or exceed his donation to help the Salvation Army reach its campaign goal.
Meszaros, former chairman of the Mercer County Salvation Army Board, said the works of the Salvation Army are incredible, not just during the holidays, but year-round.
He said 50 million people in the United States are living in poverty, and government cutbacks to social-service programs make the need even greater.
Donald E. Koenig Jr., a member of the Salvation Army's Mahoning County Advisory Board, said he and his wife, Sherrie, plan to be Red Kettle bell ringers this year.
The Salvation Army is an important cog in the safety net to make sure those in need aren't missed, and the Red Kettle campaign is an important source of revenue to meet those needs, said Koenig, executive vice president and chief operating officer for Humility of Mary Health Partners and St. Elizabeth Health Center. He said HMHP is a sponsor of the Salvation Army's annual Civic Dinner.
"The support that comes from the Mahoning County community is extraordinary. We appreciate that businesses are not only leaving footprints but heart prints of compassion," Kahn said.
Maj. Evan Hickman, Salvation Army divisional commander, presented Red Kettle Awards in recognition of 2013 corporate sponsors.