Organist Ron Goulish celebrates 50 years at St. Christine's
By LINDA M. LINONIS
linonis@vindy.com
YOUNGSTOWN
As a 13-year-old eighth-grader at St. Christine School, Ron Goulish played the organ when Bishop Emmet Walsh dedicated the new church Nov. 1, 1964. His career in church music had begun the year before.
Church Organist 50 Years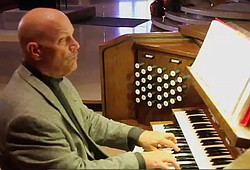 Video
Ron Goulish has been the organist at St. Christine Church for 50 years.
As music director at St. Christine Church, he hopes to play at the 50th anniversary in 2014 just as he did for the 40th celebration in 2004.
Last Sunday, the congregation honored him at a reception to recognize his 50 years of service. He's been in his position full time since January 1990.
Goulish said he grew up in a musical world. "I've been studying since I was 5 years old," he said, crediting his teachers, Sister Germaine, an Ursuline nun, and the late Lucille Ditmansen. His mother, the late Cecilia Goulish, was a well-known soprano who sang at St. Stanislaus Church. "My Dad used to joke that he played the radio," Goulish said.
He said his family was "supportive of my interest in music," but he didn't plan on it as a career. "That just fell into place."
An early aspiration was to become a priest, but he realized he was more comfortable sharing God's word through music than from a pulpit.
Goulish oversees four choirs at the church — adult, choral group, men's renewal and women's renewal. The men's and women's renewal choirs were born out of "Christ Renews His Parish" retreats; the men's choir made the CD "Moved by the Spirit."
He plays for weddings, funerals, holy days and Masses at St. Christine and also plays for such occasions at other churches in the Valley.
The longtime organist said his goal is "to bring people closer to the Lord through music." And he feels that people "feel closer to God when they're singing."
The Rev. John Keehner, pastor, said Goulish approaches his job "with reverence and prayerfulness." "His musicianship is a gift to the parish," the pastor said.
The choirs sing a variety of styles including traditional, Gospel and contemporary. Among Goulish's favorite hymns are "Holy God, We Praise Thy Name," "Hail, Holy Queen" and "Be Not Afraid." Along contemporary lines, he favors "All Are Welcome," "You Are the Voice" and "City of God."
While there are many joyful and celebratory occasions in which he participates, Goulish said he derives the most satisfaction when playing for a funeral. "This is time when families take comfort in the music," he said, adding they may request favorite selections of the deceased.
"Weddings are festive occasions and take care of themselves," he said.
Father Keehner said of music for funerals: "People relate to music on an emotional level. Ron's music reaches them in a way words don't."
In general, Goulish said he believes music adds an uplifting element to Christmas, Easter and Masses throughout the liturgical year. "Sometimes the parishioners here are so enthusiastic when they sing, you can't hear the organ," he said, adding he appreciates how members get so involved in the music.
"People here sing in a way I've never seen at other parishes," Father Keehner said. As for special liturgies, the pastor said of Goulish: "He connects to the church and its traditions."
Goulish said instilling that kind of enthusiasm was a goal. He said after the Second Vatican Council, church music changed from Latin to English. "There were new hymns and you had to build from the ground up," he said.
Goulish earned a bachelor's degree in sacred music at Cloverdale College in Indiana and a colleague professional certificate from the American Guild of Organists.
Goulish said he tells choir members "not to sing a song but tell a story in music."
"If you believe what you're singing, you don't worry about your performance ... the belief makes it perfect," he said.