---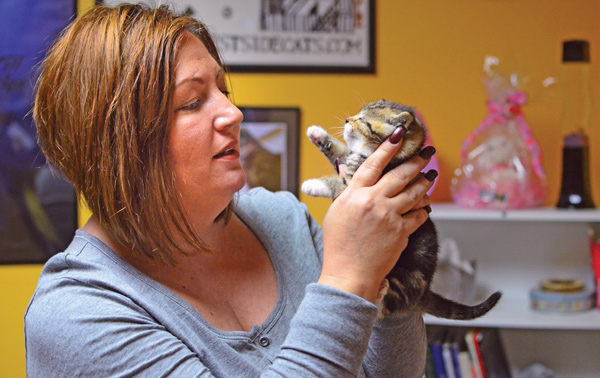 Photo
Michelle Thomas, volunteer and foster owner, plays with one of the kittens she's taking home from West Side Cats, a nonprofit, no-kill cat rescue and adoption shelter in Youngstown.
By EMMALEE C. TORISK
STRUTHERS
Sitting in a pew during her cousin's funeral service, Jaime Hughes was struck by just how much more Linda S. Klacik had wanted to accomplish in her life.
When Klacik, 52, died unexpectedly Oct. 7, she was a little more than a month into her first year of teaching third grade at Struthers Elementary School — a lifelong goal. But in addition to her love of children, Klacik also loved cats, regularly taking strays into her home.
At last count, she'd accumulated more than a dozen.
"We were saying our goodbyes, and I was realizing this was all so horrible," Hughes said. "Then, a reader [at the service] said, 'Just because the person is gone, it doesn't mean their footprint disappears.' And it came to me."
Hughes, along with other family members and friends, then began to put together what would become the Linda S. Klacik Memorial Fundraiser: an effort to collect donations in her honor that would be given to West Side Cats, a nonprofit, no-kill cat rescue and adoption shelter in Youngstown.
West Side Cats was Klacik's favorite rescue organization — and also where, in her obituary, her family had requested all memorial contributions be made.
Hughes, who is event coordinator for West Side Cats, recalled Klacik's being simply "over the moon" when the cat shelter opened. Without fail, Klacik would send monthly donations to West Side Cats to ensure that it continued to help cats, particularly those with special needs.
Most shelters, already overrun with normal cats, often don't give cats with special needs, such as broken legs or developmental disorders, the chance to be adopted, Hughes said, adding that West Side Cats is the exception.
"They don't turn any cat away, ever," she said. "She really thought that was admirable."
But Hughes said she found Klacik's strong will — and strong opinions — most admirable, too. She never stopped trying to "save the world," Hughes remembered, and always would intervene if she saw "something wrong happening," especially if it involved animals. For example, she was particularly fond of lecturing pretty much everyone on the importance of spaying and neutering, Hughes said.
Maggie Kowach, principal of Struthers Elementary School, said students and staff still joke about Klacik's "crazy cat lady" mug that always occupied a spot on her desk, as well as how it was virtually impossible for her to turn away a stray cat that was lucky enough to make its way to her house.
She added that the memorial fundraiser, with all donations benefiting those in need, is a fitting tribute to Klacik, a woman who "had a love for all of her students and animals."
Hughes suggested a number of possible donations: wet and dry cat food, litter, blankets, towels, baby shampoo, paper towels, bleach, cat toys, scratching posts.
Gift cards to pet stores, and to places such as Target and Walmart, are welcome, too, as are monetary donations to Ebert Animal Hospital in Youngstown — which, if "West Side Cats" is written on the memo line, will go toward the shelter's ongoing veterinary bill. And, of course, Hughes added, monetary donations also can be made directly to West Side Cats.
But no matter how many items are gathered, or how much money is donated, Hughes said the fundraiser will be a success if it helps others, especially those of the feline variety.
"It's been exciting to take something that was so tragic, and to reconstruct it into something she would've loved," Hughes said. "It's the best way to memorialize somebody."