Missionary builders work on Boardman Baptist Church expansion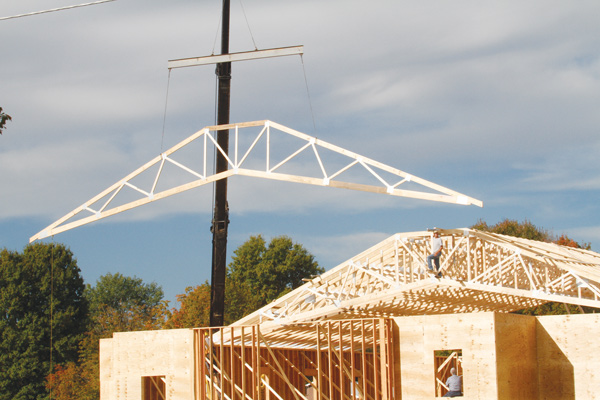 ---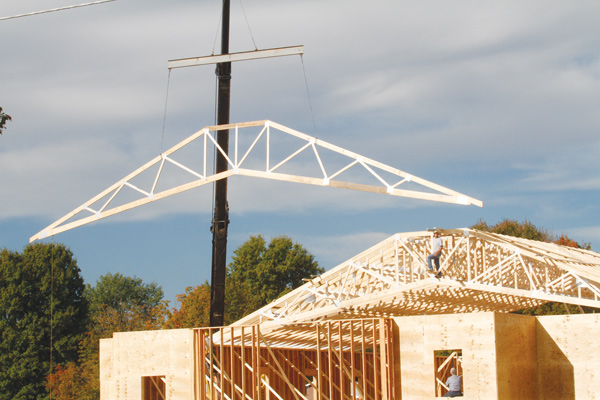 Photo
Dale Murphy guides the positioning of trusses on Boardman Baptist Church, where he is working with Martin Eaton through Baptist Church Planters of Grafton, Ohio. The expansion of the church on Shields Road includes new sanctuary, offi ces and choir room. Construction began in June, and projected completion is September 2014.
By LINDA M. LINONIS
BOARDMAN
Faith forged the way for the expansion project at Boardman Baptist Church, where missionary builders use their construction skills doing work for God.
The project began in May with the building of a retention pond. Construction started in June with projected completion in September 2014.
The church is acting as general contractor, which is permitted in Mahoning County, said Pastor Dennis L. Massie. Construction work is being done by Martin Eaton, who is in the Valley with his wife, Lucille, and Dale Murphy, who is with his wife, Colleen, and 15-year-old daughter.
Eaton and Murphy work through Baptist Church Planters in Grafton, Ohio. Subcontractors are handling mechanical work.
The 108-member church is seeing a dream being built because of donations to the Joash building fund. The fund, initiated in 2000, receives donations in a handmade wooden chest crafted by Al Barnett. Pastor Massie said the fund is based on a Biblical passage about King Joash and a temple needing repair.
Attention to the Joash fund was paid during the church's 50th anniversary in 2006. Over 12 years, the congregation faithfully contributed and has about $600,000 in cash assets and plans to get a loan to cover the remainder of what will be about $1 million.
The expansion project includes a new sanctuary with seating for 260, restrooms that are handicapped accessible, offices and choir room along with a connector to the current building. The current sanctuary, minus the pews, will become a fellowship hall.
The current fellowship hall, which seats about 60, and auditorium that seats about 125, are crowded when larger gatherings occur. "The space is not sufficient," Pastor Massie said. "It's too full and crowded," his wife, Eleanor, added.
The expansion on the church's nearly 8 acres at 1207 Shields Road, Pastor Massie said, is for the future of the church. "To attract young families with children, a church has to have space for ministries. This will do that," he said. "We are building for the future."
The congregation is "excited" about the project, the pastor said. Since Pastor Massie came to the church, he has engaged in door-to-door visitation. The practice has resulted in some people attending and joining the church. Many people he has visited have shared positive comments about the church expansion, which is seen as an "investment" in the community.
Some church members volunteer on the construction crew, which generally works Tuesday through Saturday.
Eaton spent a dozen years as a pastor and more than 40 as a missionary builder. "Don't add up the years," he said with a smile.
He said "God called" him, and he answered. Since his first church was small, he worked on the side in construction. "Go where you have talent," he said.
Though he left the pastorate, he still "is serving God" through the church-related construction. Eaton said it began with a letter he received about Christian builders. "God used that letter," he said.
Eaton has worked in some 25 states and participated in some 50 to 60 projects. Now 74 years old, he said the Boardman church may be his last. But, he noted, "the projects keep me young." He said the church projects are "challenging" and allow him to "be creative."
Murphy has five projects under his tool belt and has been involved in the work almost six years. He has a background in plumbing and heating. He said it is gratifying to see the appreciation from congregations and the excitement of a project.
The Eatons said they once asked their three adult daughters how the family lifestyle had affected them. (Churches provide apartments and stipends for the missionary builders.) They said their children noted they "had friends all over," and living in various states had been educational and interesting.